Feasting and Fasting: The History and Ethics of Jewish Food (Hardcover)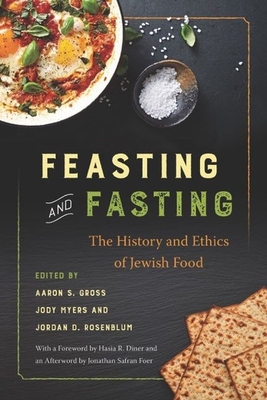 Description
---
How Judaism and food are intertwined
Judaism is a religion that is enthusiastic about food. Jewish holidays are inevitably celebrated through eating particular foods, or around fasting and then eating particular foods. Through fasting, feasting, dining, and noshing, food infuses the rich traditions of Judaism into daily life. What do the complicated laws of kosher food mean to Jews? How does food in Jewish bellies shape the hearts and minds of Jews? What does the Jewish relationship with food teach us about Christianity, Islam, and religion itself? Can food shape the future of Judaism?
Feasting and Fasting
explores questions like these to offer an expansive look at how Judaism and food have been intertwined, both historically and today. It also grapples with the charged ethical debates about how food choices reflect competing Jewish values about community, animals, the natural world and the very meaning of being human. Encompassing historical, ethnographic, and theoretical viewpoints, and including contributions dedicated to the religious dimensions of foods including garlic, Crisco, peanut oil, and wine, the volume advances the state of both Jewish studies and religious studies scholarship on food. Bookended with a foreword by the Jewish historian Hasia Diner and an epilogue by the novelist and food activist Jonathan Safran Foer,
Feasting and Fasting
provides a resource for anyone who hungers to understand how food and religion intersect.
About the Author
---
Jonathan Safran Foer (Afterword by) Jonathan Safran Foer is Lillian Vernon Distinguished Writer-in-Residence at NYU, and author of Extremely Loud and Incredibly Close, Everything is Illuminated, and Eating Animals. Aaron S. Gross (Editor) Aaron S. Gross is an Associate Professor of Jewish Studies in the Theology and Religious Studies Department at the University of San Diego, and the Founder and CEO of the nonprofit advocacy organization, Farm Forward. He is the author of The Question of the Animal and Religion: Theoretical Stakes, Practical Implications. Jody Myers (Editor) Jody Myers is Professor of Religious Studies and Director of the Jewish Studies Interdisciplinary Program at California State University, Northridge. She has written on modern religious thought and expression. She is the author of Seeking Zion: Modernity and Messianic Activism in the Writings of Tsevi Hirsch Kalischer (Littman Library, 2004) and Kabbalah and the Spiritual Quest: The Kabbalah Center in America (Praeger, 2007), as well as more than two dozen articles. Jordan D. Rosenblum (Editor) Jordan Rosenblum is Professor of Religious Studies, University of Wisconsin-Madison, where he is also the Belzer Professor of Classical Judaism at the Mosse/Weinstein Center for Jewish Studies. He is the author of many books, including Rabbinic Drinking: What Beverages Teach Us About Rabbinic Literature, The Jewish Dietary Laws in the Ancient World and Food and Identity in Early Rabbinic Judaism and coeditor of Feasting and Fasting: The History and Ethics of Jewish Food. Hasia R. Diner (Foreword by) Hasia R. Diner is Professor Emerita at the Departments of History and the Skirball Department of Hebrew and Judaic Studies at New York University, and Director of the Goldstein-Goren Center for American Jewish History. Among her many books are Hungering for America: Italian, Irish and Jewish Foodways in the Age of Migration, The Jews of the United States, 1654 to 2000, We Remember With Reverence and Love: American Jews and the Myth of Silence after the Holocaust, 1945-1962 and Immigration: An American History, with Carl Bon Tempo.