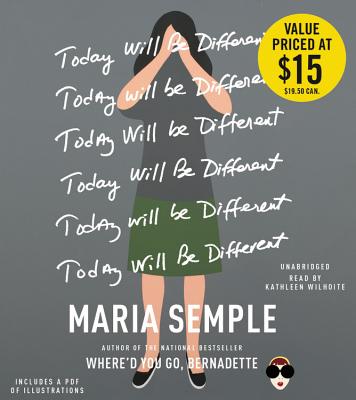 Staff Reviews
---
Today Will Be Different, the latest novel from Aspen's darling Maria Semple, author of bestselling Where'd You Go, Bernadette captured me immediately with the all-too familiar sentiments of its opening paragraph. This novel, in Semple's signature wit and cynicism, brings to light the absurdity, futility and yet the necessity of one's march toward salvation through self-improvement. Hilariously rendered, Today Will Be Different tells of one day in the life of Eleanor Flood, a middle-aged mother of pudgy, gender-confused eight year-old Timby (named after an iPhone auto-correction of the name Timothy), and wife to Joe, hand surgeon for the Seattle Seahawks. Eleanor's artistic career as a television animator has all but fizzled out, and though it's a daily grind of fighting a white woman's ennui, every morning presents her with the opportunity to start anew with a laundry list of ways in which she will do better: today she will wear yoga clothes only to yoga, she will play a board game with Timby, she will reflect deeply the meaning of the poem she's reading in her private poetry lessons, she will initiate sex with Joe. Today her "face will be relaxed, it's resting place a smile."
With an observation on each page to elicit at least a chuckle (and many times a hearty laugh), Semple comments—through Eleanor's evasions and endeavors—on the quixotic nature of self-help (an astonishingly sweeping movement among the creative class) in a culture that rarely encourages deep self-examination.
But perhaps the best part of this book for Aspenites….? Is that it's full of Aspen. Eleanor Flood has been nominated for a Minerva, a prize awarded to graphic novelists, for her work on a book called The Flood Girls, which recounts her childhood spent in Aspen in the seventies. This meta-novel actually appears as an illustrated 16-page insert that will surprise and delight you as you recognize the Aspen landmarks…some of which you've likely set foot in recently.
Despite her best Mrs. Dalloway efforts to present a fresh face to a world that demands we live up to the persona we've stigmatized ourselves into, Eleanor still manages to weasel out of the actual work of self-improvement. Until a rapid and unexpected sequence of events bring about a violent cataclysm of past and present, and impose the work upon her. As she dangles by a thread, she is forced to confront her former self.
Gradually, we learn the backstory of her difficult childhood—she tells Timby about buying clothes from the "chunky section" of "some awful store in Glenwood Springs"—and Eleanor slowly (and with many setbacks) begins to check off the eternally long list of ways in which today will be different. In her own madness-induced rant, Eleanor's message to Timby is this: "Life is one long headwind. To make any kind of impact requires self-will bordering on madness. The world will be hostile…it will misinterpret you, it will inject you with doubt, it will flatter you into self-sabotage…but you have a vision. You put a frame around it. You sign your name anyway. That's the risk. That's the leap. That's the madness: thinking anyone's going to care."
Perhaps the most honest character, Alonzo, whom Eleanor deems "my poet" grapples with the same self-struggle, although his outward experience looks completely different. Enduring the humiliation of pedaling steakfish samples at a Seattle Costco, Alonzo the poet struggles to be the man he envisions as his best self.
Today Will Be Different will resonate with readers on so many levels: it's filled with hilarious pop culture references and wildly funny observations about our times, but also full of embarrassing truths about aging and motherhood. It comments on the terror of facing your former self and unflinchingly outlines the daily work of living up to who you know you have the potential to be. But the most resonant part of Semple's book? Oh yeah, all the Aspen references! A handful of our locals make cameos throughout the chapters. See how many you can count. And don't forget to come hear Maria Semple speak at Explore Booksellers! She and her brother Lorenzo Semple will be in conversation about this incredible tour de force at 4:00pm on November 25th.  
~Eleanore Scott
— Ellie Scott
October 2016 Indie Next List
---
"With her signature writing style and matter-of-fact and honest tone, Semple can make me laugh while reading like no one else can. Truth be told, there's not much to the plot here other than Eleanor decides today will be different and, of course, everything that could possibly go wrong does go wrong. However, the simplicity of the plot is what makes this book a wonderful read for all of us who don't have it together, who forget things, and who sometimes just plain lose their cool."
— Kristin Beverly (E), Half Price Books, Dallas, TX
Description
---
*In development with HBO as a series starring Julia Roberts* * Instant New York Times Bestseller *Named a Notable Book of 2016 by the Washington Post, one of Amazon's Top 100 Books of the Year, one of New York Times Book Review's 100 Notable Books, one of The Guardian's Best Books of 2016, one of NPR's Best Books of 2016, a Must-Read Book of 2016 by PopSugar, one of EW's 20 Best Books of 2016, one of Glamour's Top Ten Books of the Year, and one of Kirkus Reviews' Best 100 Fiction Books of 2016A brilliant novel from the author of Where'd You Go, Bernadette, about a day in the life of Eleanor Flood, forced to abandon her small ambitions and awake to a strange, new future.Eleanor knows she's a mess. But today, she will tackle the little things. She will shower and get dressed. She will have her poetry and yoga lessons after dropping off her son, Timby. She won't swear. She will initiate sex with her husband, Joe. But before she can put her modest plan into action-life happens. Today, it turns out, is the day Timby has decided to fake sick to weasel his way into his mother's company. It's also the day Joe has chosen to tell his office-but not Eleanor-that he's on vacation. Just when it seems like things can't go more awry, an encounter with a former colleague produces a graphic memoir whose dramatic tale threatens to reveal a buried family secret. TODAY WILL BE DIFFERENT is a hilarious, heart-filled story about reinvention, sisterhood, and how sometimes it takes facing up to our former selves to truly begin living.
Today Will Be Different Lib/E (Compact Disc)