Where Hummingbirds Come From Bilingual Portuguese English (Paperback)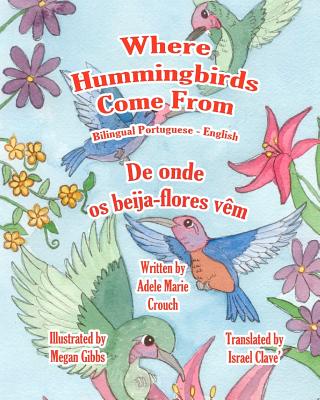 $17.19

Usually Available/Ships in 5-7 Business Days
This book is non-returnable.
Description
---
This delightful little story tells of a young girl's time with her grandmother as she relates to a legend of Where Hummingbirds Come From. Grandmother explains the magic waters and the beauty of this tiny bird. Where Hummingbirds Come From may well become an all-time children's classic and a perfect book for the young reader. As well as a wonderful study guide for English as a second language students.
About the Author
---
Adele's memories of her grandmother are filled with warmth, happiness and love. "My Grandma Tony was one of those story-book grandmas. She was cheerful and loving and her house always smelled like fresh baked bread. She had a 'snuggle up' lap and plenty of affection to go around for all of her grandchildren", Adele comments. Her passing was difficult, but did not dim the wonderful memories Adele still carries in her heart. One night, many years after her Grandma Tony's death, Adele woke to the sound of her grandmother's voice in her head. She got up, went to her computer and typed what was streaming through her mind. The end result, How The Fox Got His Color. Less than a week later, Adele awoke once again in the pre-dawn hours and went to her computer. By daylight, Where Hummingbirds Come From was complete. After her son-in-law immigrated to America from Beijing, she watched him struggle to learn the English language. It became apparent that prepositions are one of the most difficult concepts to comprehend. Upon his request, she began to write a children's book using a number of prepositions. The end result is The Dance of The Caterpillars. Adele has used twenty three prepositions, 1 two-word multiple, and 2 three-word multiples in this story. Adele's children's books have become popular for English as a second language students all over the world and are on the top 10 list of ESL study material on Amazon. At the time of the publication of this book, How the Fox Got His Color is available on Kindle and Nook in twelve languages, Where Hummingbirds Come From is available in ten languages, and The Dance Of The Caterpillars in ten languages. See: www.creationsbycrouch.com If you wish to contact Adele, you can email: adele@creationsbycrouch.com In memory of my grandmother, Vernie Maybelle (Sisson) Deschwanden. April 9, 1900 - August 10, 1984. May she rest in peace. And To Frankie (Franklyn Bailey Anne Crouch) March 17, 2010 - May she have a life filled with love and happiness.