The Mediterranean Diet Cookbook for Beginners: Meal Plans, Expert Guidance, and 100 Recipes to Get You Started (Paperback)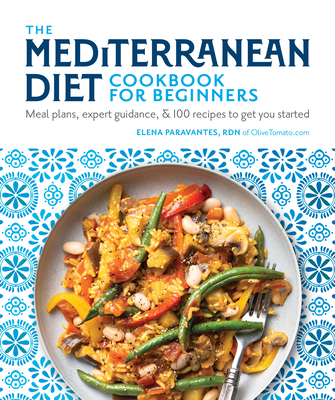 $19.99

Usually Available/Ships in 5-7 Business Days
Description
---
With 100 recipes and practical advice, this is the only guide you'll need to get started on the authentic Mediterranean diet!

Introducing Mediterranean Diet Cookbook for Beginners, a one-stop guide to the authentic and much-loved Mediterranean Diet, featuring a perfect balance of vegetables, grains, fruit, generous portions of olive oil, and occasional servings of meat and fish, making this Mediterranean diet book both healthy and delicious!Want to adopt a healthy Mediterranean diet but don't know where to begin? Don't worry, we've got you covered! 

Dive straight into this delicious diet book to discover:

-100 simple, tried-and-tested, healthy and delicious recipes made with fresh ingredients.
-An easy-to-follow 14-day meal plan to get you started, with comprehensive shopping and food lists, and tips for creating your own menus.
-Detailed guidance on how to shop for the right ingredients and how to cook the Mediterranean way.
-Top tips for adopting a Mediterranean lifestyle that will improve your health and well-being.

Did you know that the Mediterranean diet is universally accepted as the healthiest diet on the planet? So what are you waiting for? Get started today! 

Featuring expert advice from Registered Dietitian Nutritionist Elena Paravantes, this is the only guide you could ever need to get started on an awe-inspiring journey of Mediterranean cuisine.

A must-have volume for individuals who want to convert to this incredibly healthy and delicious Spanish diet, but don't know where to start. Unlike other recipe books, this healthy cookbook contains recipes, meal plans, practical lifestyle tips, as well as cooking and shopping guidance, helping you to make the very most of all things Mediterranean and encourage healthy eating everyday.
About the Author
---
Elena Paravantes, RDN is the creator of olivetomato.com, the top online resource for the authentic Mediterranean diet. She is a registered dietitian nutritionist, writer, consultant, and lecturer with over 20 years of professional experience both in the United States and Greece. An award-winning expert on the Greek Mediterranean diet, her interviews and articles have appeared in publications and websites including U.S. News and World Report, CNN, Prevention, Men's Health, Women's Health, Shape, Fitness, Parade, Salon, Today's Dietitian, Food & Nutrition, and NPR. She is the past food and nutrition editor of the Greek editions of Men's Health and Prevention magazines. Elena is frequently invited to speak about issues related to the Mediterranean diet at international and national conferences, and has collaborated with a number of institutions including Yale University, Loyola University, The University of Missouri, Louisiana State University, American College of Greece, and American University of Madaba in Jordan.