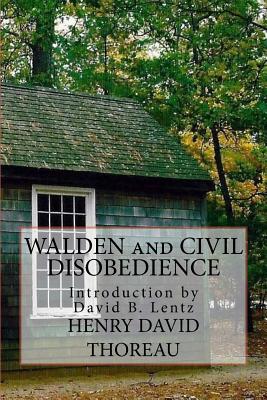 $20.69

Usually Available/Ships in 5-7 Business Days
This book is non-returnable.
Description
---
Robert Frost wrote of Thoreau, "In one book... he gave America the best of all we had." Henry David Thoreau is best known as the American author of "Walden" who wanted first-hand to experience and understand deeply the inspiring connection between man and nature. He built a humble cabin by his own hands beside Walden Pond with tools borrowed from his Concord neighbors and sustained by the fruits of the bean field sown in his garden and those resources yielded up to him by the wilderness. He seeks to transcend inauthentic, everyday life in Concord and awaken his soul to the beauty and harmony of life by living mindfully in every moment in the pristine woods of New England in 1845. "I went to the woods because I wished to live deliberately, to front only the essential facts of life, and see if I could not learn what it had to teach, and not, when I came to die, discover that I had not lived," Thoreau writes in "Walden." Thoreau is profoundly wise and an earnest reading of Walden yields within its pages the power to change one's perspective for the better through a deeper recognition of the wholeness, harmony, simplicity and radiance of life. You may become transcendent by reading "Walden" mindfully and come to understand the true meaning of marching to the tune of a different drummer. This edition of the Classic Masterpiece Series by WordsworthGreenwich Press also includes Thoreau's essay on "Civil Disobedience" which shaped influential thinkers who followed like Tolstoy, Gandhi and Martin Luther King, Jr. "An Introduction to Thoreau" by David B. Lentz adds value by providing context, clarity and perspective to this genius American literary work.
About the Author
---
Thoreau studied at Harvard College between 1833 and 1837. With his brother, John, he opened a grammar school in 1838 in Concord until John became fatally ill from tetanus in 1842 after cutting himself while shaving: John died in Henry's arms. Thoreau met Ralph Waldo Emerson, who took a paternal interest in him and introduced him to local writers like Hawthorne, Bronson Alcott and Ellery Channing. Thoreau worked in his family's pencil factory for most of his adult life. In April 1844 he and a friend accidentally set fire to 300 acres of Walden Woods. In March 1845 Ellery Channing told a restless Thoreau, "Go out, build yourself a hut, & there begin the grand process of devouring yourself alive. I see no other alternative, no other hope for you." Thoreau embarked on a two-year experiment in living simply on July 4, 1845, when he moved to a modest cabin that he constructed on 14 acres of land owned by Emerson on the shores of Walden Pond. Thoreau transformed into a supremely self-reliant individual, a core value of transcendentalism. It holds that nature expressed the "radical correspondence of visible things and human thoughts," as Emerson wrote in 1836. Thoreau wrote prolifically in books, articles, essays, journals and poetry totaling more than 20 volumes. He was deemed a non-conformist, abolitionist and an anarchist. His essay on "Civil Disobedience" later influenced the thinking of Tolstoy, Gandhi and Martin Luther King, Jr. "Civil Disobedience" called for improving rather than abolishing government. Thoreau spent a night in jail for refusing to pay six years of delinquent poll taxes used to finance the Mexican-American War and slavery. In August 1846 Thoreau briefly left Walden to make a trip to Maine to Mount Katahdin. He traveled to Quebec once, four times to Cape Cod and three times to Maine. In 1859 following a late night outing to count the rings of tree stumps during a rainstorm, he became ill with bronchitis. His health declined over three years until he became bedridden. Thoreau spent his last years revising and editing his unpublished works, particularly "The Maine Woods." He died on May 6, 1862 at age 44. The only two complete books published in his lifetime were his observations as a naturalist and transcendentalist in "Walden" and "A Week on the Concord and Merrimack Rivers" (1849). Even "Walden" won few admirers, at first, but downstream his critics recognized its true value as a classic American work of literary genius.
Walden: and Civil Disobedience (Paperback)