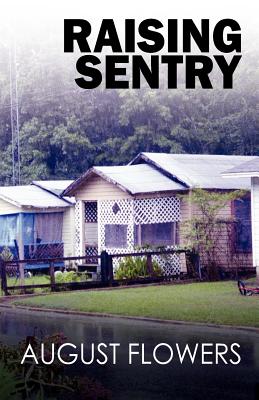 $16.95

Usually Available/Ships in 5-7 Business Days
This book is non-returnable.
Description
---

"Raising Sentry" reveals elements of courage beyond years, religious faith, military life, along with traditional southern family values. This story is biographical fiction and is the first of a series designed to follow along as Sentry develops the mental armor needed to overcome life challenges.
In this organic narrative several short stories are closely related. The protagonist is a twelve year old girl who narrates her story. The opening reveals the trauma predestined to infect her entire being.
The narrator switches between first person and third person in order to make the connection between traumatic experiences; at times she is in the storyline and apart of the trauma; then as if standing on the sideline viewing it as it unfolds. This is artistic form the author uses to bring attention to the content provided by the changes in tense.
The story takes place during the 1950's and early 1960's in Arkansas, Hawaii, and throughout California's various military bases. However, the prime location is in San Diego, California; the story starts here but this is not where the story begins. The flash backs in time pull the story together and provides the reader with a glimpse into the protagonist's care free life with her loving family members in the segregated south.
My name is Sentry. Social conditioning, environmental exposure, family values, as well as biological makeup are strong factors toward determining one's mind set and actions. No less is true for me as her first born. I have been mentally charged with the lifelong duty to serve and to protect.
My birth was the direct response of unwanted and unsolicited desires of Mr. Walter Jolton; the much older, married man in the neighborhood who lusted after my teen mother, Stella; the eldest of my grandparents' twelve children. She had no idea of his desire for her; so, she went about her life as a normal teenager. Her high school studies and her responsibility to care for and after her younger siblings were first of her major concerns; having no idea that she was being watched.
This forbidden encounter leaves young Stella depressed, then upon hearing the news of her expecting birth (a baby girl), she becomes withdrawn feeling that her world along with her dreams were now shattered. She finds strength in prayer along with her loving family and friends. The story now focuses on and travels through the life of her unwanted child, as she takes on the trials set in her path.
Her duties unfold at age twelve when she stands like David against Goliath by taking on a force immensely greater, to protect her mother and her siblings.
Readers of "Raising Sentry" will appreciate the many challenges faced by the young protagonist. Her courage demonstrates how the power of prayer and abundant love wins over adversity.
The target market aims at females of various ages and males who have suffered abuse at the hands of a trusted person and lived to tell their story.
Raising Sentry (Paperback)