Saint Joan (Paperback)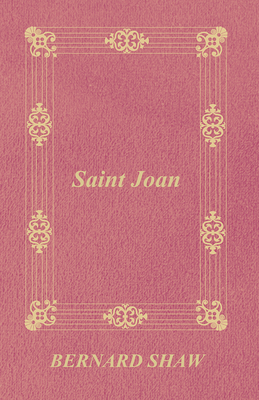 $37.69

Usually Available/Ships in 5-7 Business Days
This book is non-returnable.
Description
---
This volume contains Bernard Shaw's 1924 play, "Saint Joan". It is a 'chronicle play' in six scenes, and an epilogue that revolves around Joan of Arc. It elucidates her immense personality, problems, and potential. As well as the play itself, Shaw also furnishes a number of chapters on Joan of Arc that offer interesting insights into her life and character. This interesting and thought-provoking play will appeal to fans and collectors of Shaw's seminal work, and would make for a great addition to any collection. The chapters of this book include: "Joan the Original and Presumptuous", "Joan and Socrates", "Contrast with Napoleon", "Was Joan Innocent or Guilty", "Joan's Good Looks", "Joan's Social Position", "Joan's Voices and Visions", "The Evolutionary Appetite", etcetera. Many vintage texts such as this are increasingly scarce and expensive, and it is with this in mind that we are republishing this book now, in an affordable, high-quality, modern edition. It comes complete with a specially commissioned biography of the author.