HULK: MAESTRO BY PETER DAVID OMNIBUS (Hardcover)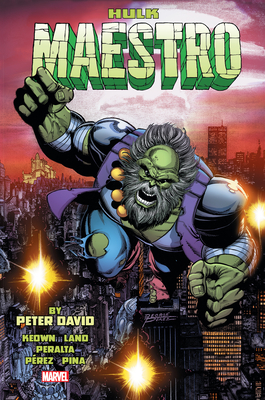 $125.00

On Our Shelves Now
This book is non-returnable.
Description
---
Collects HULK: FUTURE IMPERFECT #1-2, INCREDIBLE HULK (1968) #460-461, CAPTAIN MARVEL (1999) #27-30, SPIDER-MAN 2099 (2014) #9-10, FUTURE IMPERFECT #1-5, MAESTRO #1-5, MAESTRO: WAR AND PAX #1-5, MAESTRO: WORLD WAR M #1-5, EXILES (2001) #79-80, ABOMINATIONS #1-3, and material from HULK: BROKEN WORLDS #1 and SECRET WARS: BATTLEWORLD #4. In an imperfect future, the world finds itself in the gamma-powered grip of the Maestro - the monster once known as the Hulk! Experience the full story of the strongest tyrant there is - beginning with the all-time-classic saga from Peter David and George Pérez pitting a time-torn Hulk against his evil future self! Then the Maestro smashes Genis-Vell, son of the Kree Captain Marvel, and the Spider-Man of 2099! On the Battleworld of SECRET WARS, the Maestro rules the realm called Dystopia! And in a titanic trilogy, learn exactly what twisted the Hulk into the despot he would become - and what horrible deeds he committed on the path to conquest!
About the Author
---
Peter David is one of the industry's most prolific and versatile writers whose record-breaking stint on Incredible Hulk remains a fan-favorite to this day. His similarly long-running — and critically acclaimed — association with X-Factor began in the early 1990s and continued in 2005. His other Marvel work includes Captain Marvel, two lengthy stints on Spider-Man 2099, Ben Reilly: Scarlet Spider and the smash-hit Symbiote Spider-Man limited series with artist Greg Land. David is also a novelist and screenwriter. Among his credits are some forty Star Trek tie-ins; original novels such as Sir Apropos of Nothing, Howling Mad and Knight Life; movies Trancers 4 and Trancers 5; and episodes of Babylon 5 and Crusade. He also co-created the TV show Space Cases with actor-writer Bill Mumy.

Artist George Pérez made team titles his specialty with runs on Marvel's Avengers and Fantastic Four, along with DC's Justice League of America and New Teen Titans, the latter co-created with Marv Wolfman. The pair redefined the DC Universe in Crisis on Infinite Earths. In collaboration with writer Kurt Busiek, he returned to Avengers following the "Heroes Reborn" event. The pair surpassed expectations with JLA/Avengers, a 2003 crossover that featured nearly every member of both long-running teams.

The son of industry pioneer Joe Kubert, Adam Kubert has won numerous comics-industry achievement awards — including an Eisner Award and a Wizard magazine award. His landmark runs on Wolverine and Incredible Hulk made him a superstar, leading him to work on X-Men titles including the Marvel Universe-changing Onslaught saga. His subsequent efforts for Marvel include revisiting the world of Logan on Astonishing Spider-Man & Wolverine and the blockbuster sequel Origin II. Kubert joined the stellar artistic lineup of the event series Avengers vs. X-Men, and his subsequent work includes All-New, All-Different Avengers; Peter Parker: The Spectacular Spider-Man; and Captain America. In 2020, he made a triumphant return to his signature character for the Dawn of X relaunch of Wolverine.

Artist David Brewer began his career at Marvel, contributing fill-in art on various titles and drawing several issues of 2099: World of Tomorrow and Incredible Hulk. For DC, Brewer illustrated several annuals before moving to Chaos! Comics, where he drew the Dead King and Lady Demon miniseries, as well as several Evil Ernie comics, including the Depraved and War of the Dead spinoffs.