MARVEL MASTERWORKS: THE AVENGERS VOL. 23 (Hardcover)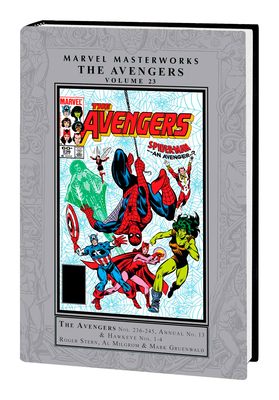 $75.00

On Our Shelves Now
This book is non-returnable.
Description
---
Roger Stern's run of Avengers excellence continues! First, Spider-Man is short on cash - and an Avengers salary is just the ticket to fix his finances! Then, it's pandemonium at Project PEGASUS - and in the aftermath, Starfox connects the Vision to Titan's supercomputer, giving Vizh nearly unlimited power! Next, the team battles Morgan Le Fey in a struggle to save Spider-Woman's soul. Meanwhile, Hawkeye introduces his new bride, Mockingbird, to the Avengers - just in time to get whisked away to Battleworld along with most of the team! The Vision is left behind, but can he assemble an all-new Avengers roster? Plus: An Annual adventure by the creative dream team of Stern, Ditko and Byrne - and Mark Gruenwald's milestone HAWKEYE limited series! Collecting AVENGERS (1963) #236-245 and ANNUAL #13, and HAWKEYE (1983) #1-4.
About the Author
---
Roger Stern enjoyed well-regarded runs on Amazing Spider-Man, in which he introduced Captain Marvel (Monica Rambeau) and the Hobgoblin; Avengers; and Captain America. He launched West Coast Avengers and wrote numerous tie-in miniseries starring Earth's Mightiest Heroes. At DC, he relaunched Atom and co-created Starman (Will Payton) before participating in one of comics' most shocking events: the 1992 "Death of Superman." He later returned to Marvel to write Amazing Spider-Man and related titles.

Al Milgrom, A.K.A. "Editori-Al," is renowned as writer, editor, penciler and inker — and held most of those positions on Spectacular Spider-Man. He also contributed to SSM's sibling Amazing Spider-Man. He penciled West Coast Avengers for four years and inked X-Factor for eight. His artwork has also appeared in Avengers, Captain America, Thor and most X-titles, including the classic Kitty Pryde and Wolverine. As editor, he oversaw Marvel's Epic imprint and the 60-issue run of Marvel Fanfare, where his satirical self-portraits made his face as recognizable as any super hero's mask. At DC, he co-created Firestorm the Nuclear Man with Gerry Conway.