SPIDER-MAN 2099 OMNIBUS VOL. 1 (Hardcover)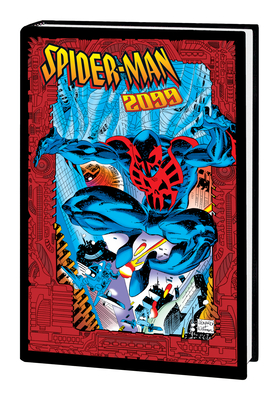 $150.00

On Our Shelves Now
This book is non-returnable.
Description
---
Peter David's futuristic epic, collected in full! The year 2099 is full of menace, but none so insidious as the corrupt corporations that run the world! Miguel O'Hara, his DNA rewritten in an attempt to escape his employer Alchemax, has gained amazing powers - and become the new Spider-Man! But as Miguel battles injustice in both high and low society, menaces new and familiar come calling: Venture, the Specialist, the Vulture, the mysterious Thanatos and more! The possible return of the Asgardian gods unites Miguel with 2099's other heroes - but who is the Net Prophet? How will Spider-Man react when Doctor Doom conquers America? And what is Miguel's connection to Venom 2099? Collecting SPIDER-MAN 2099 (1992) #1-46 and ANNUAL #1, RAVAGE 2099 #15, X-MEN 2099 #5, DOOM 2099 #14, PUNISHER 2099 #13, SPIDER-MAN 2099 MEETS SPIDER-MAN and SPIDER-MAN 2099 SPECIAL.
About the Author
---
Peter David is one of the industry's most prolific and versatile writers whose record-breaking stint on Incredible Hulk remains a fan-favorite to this day. His similarly long-running — and critically acclaimed — association with X-Factor began in the early 1990s and continued in 2005. His other Marvel work includes Captain Marvel, two lengthy stints on Spider-Man 2099, Ben Reilly: Scarlet Spider and the smash-hit Symbiote Spider-Man limited series with artist Greg Land. David is also a novelist and screenwriter. Among his credits are some forty Star Trek tie-ins; original novels such as Sir Apropos of Nothing, Howling Mad and Knight Life; movies Trancers 4 and Trancers 5; and episodes of Babylon 5 and Crusade. He also co-created the TV show Space Cases with actor-writer Bill Mumy.

Three different incarnations of Cloak and Dagger were only a few of Rick Leonardi's artistic achievements for Marvel. His other credits include Uncanny X-Men, New Mutants and Spider-Man 2099. At DC, he drew Batman family titles Batgirl and Nightwing, as well as comic/film crossover Green Lantern vs. Aliens. At Event Comics, he penciled Painkiller Jane.