PUNISHER WAR JOURNAL (Paperback)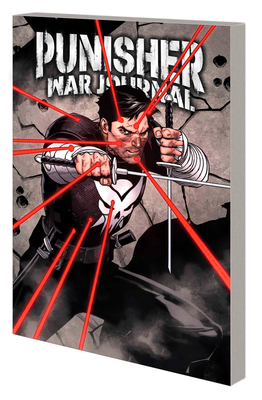 Description
---
The Punisher's war has evolved — and it's time for a new volume of his war journal! Three thrilling tales explore Frank Castle's updated modus operandi through some of his deadliest missions yet! Frank now has the Hand's entire ninja army at his disposal, and he's targeting the Hate-Monger! But this vile warmonger is fighting back. Good for him: It's not going to change anything but the death toll. Plus: Lady Bullseye failed. Lord Deathstrike failed. Every assassin sent to kill Frank fails. So the leaders of the underworld — crime bosses, terrorists and even a corrupt government or two — must unite to solve the growing problem of the Punisher! And in a story from Frank's past, discover the origin of the war journal itself! Collecting PUNISHER WAR JOURNAL: BLITZ, PUNISHER WAR JOURNAL: BROTHER and PUNISHER WAR JOURNAL: BASE.
About the Author
---
Torunn Grønbekk is a comic book writer and portrait painter. She is best known for her collaborations with Jason Aaron on the character of JANE FOSTER, and has since gone on to work on PUNISHER.

Lan Medina has illustrated District X and its House of M spinoff Mutopia X, Silver Surfer, Venom, Cable & Deadpool, Deathlok and Storm for Marvel. He drew the Alpha and Omega issues of the Minimum Carnage crossover between Scarlet Spider and Venom; the limited series Iron Man: Rapture; and both an adaptation of the movie Thor and a prelude to its sequel, Thor: The Dark World. He also has extensive experience with the MAX imprint, including on Foolkiller and Garth Ennis' The Punisher. Medina was also the first Filipino artist to win the prestigious Eisner Award for his work on DC/Vertigo's Fables. Other notable works include Aria, Stone and American Flagg.