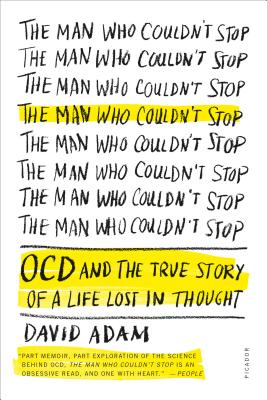 $18.00

Usually Available/Ships in 5-7 Business Days
Description
---
Winner of the Medical Journalists' Association's Tony Thistlethwaite Award
A Finalist for the Royal Society Winton Prize for Science Books
Recipient of the International OCD Foundation's Illumination Award

What might lead a schoolgirl to eat a wall of her house, piece by piece, or a man to die beneath an avalanche of household junk that he and his brother have compulsively hoarded? At what point does a harmless idea, a snowflake in a clear summer sky, become a blinding blizzard of unwanted thoughts?

David Adam—an editor at Nature and an accomplished science writer—has suffered from obsessive-compulsive disorder for twenty years, and The Man Who Couldn't Stop is his unflinchingly honest attempt to understand the condition and his experiences. In this riveting and intimate blend of science, history, and memoir, Adam explores the weird thoughts that exist within every mind and explains how they drive millions of us toward obsession and compulsion. Told with fierce clarity, humor, and urgent lyricism, The Man Who Couldn't Stop is a haunting story of a personal nightmare that shines a light into the darkest corners of our minds.
About the Author
---
Dr. David Adam is a writer and editor at Nature, the world's leading scientific journal. Before that he was a specialist correspondent for The Guardian for several years, writing on science, medicine, and the environment. He has been named feature writer of the year by the Association of British Science Writers, and has reported from Antarctica, the Arctic, China, and the depths of the Amazon jungle. Adam is the author of The Man Who Couldn't Stop.
Praise For…
---
"Adam is a companionable Virgil, guiding the reader through the hellish circles of the disorder, explaining scientific concepts in clear, nontechnical prose . . . For sufferers, the thirst for relief from intrusive thoughts and compulsions can be unending and, ultimately, unquenchable. David Adam's book should provide them with consolation (you are not alone) and hope (he's much better now)—and it provides all readers with a fascinating glimpse of an unusual but enduring form of psychopathology." —Scott Stossel, The New York Times Book Review

"Adam provides a compelling, often frightening, description of the havoc OCD can wreak. He also provides hope that while OCD can derail even the most placid life, it can be overcome." —USA Today

"[A] remarkable account of obsessive-compulsive disorder" —Seattle Times

"[A] searing account . . . The mental-disorder memoir . . . has become its own genre, and works such as Elizabeth Wurtzel's Prozac Nation, Andrew Solomon's The Noonday Demon and most recently Scott Stossel's My Age of Anxiety set a high standard. In The Man Who Couldn't Stop, Adam more than meets it, writing with honesty, compassion and even humor about a malady so often stigmatized and caricatured." —The Washington Post

"A compelling portrait . . . This is the most comprehensive and compassionate book on OCD to date, and it offers hope that our thinking and behavior—both individual and collective—can change." —Los Angeles Times

"Part memoir, part exploration of the science behind OCD, The Man Who Couldn't Stop is an obsessive read and one with heart." —People

"With the wry wit of a natural storyteller and the mastery of a science writer at the top of his game, David Adam takes readers deep into the inner workings of the obsessive brain, hijacked by uncontrollable, unwanted thoughts. The Man Who Couldn't Stop is at once a fascinating exploration of the latest neuroscience, a rollicking history of the often truly misguided attempts to heal broken minds, and a courageous chronicle of Adam's own journey from shame and stigma to understanding and healing. A wholly unexpected, illuminating, and unforgettable book." —Brigid Schulte, author of Overwhelmed: Work, Love and Play When No One Has the Time

"The greatest strength of his book—part memoir, part scientific treatise on obsessive-compulsive disorder—is that it meets [people who call themselves "a little OCD"] on their level: "Imagine you can never turn it off." Adam's personal insights, and case studies from the famous (Winston Churchill, Nikola Tesla) to the obscure (an Ethiopian schoolgirl who ate a wall of mud bricks), make that feat of imagination both possible and painful." —Mother Jones

"An engrossing first-person study of obsessive-compulsive disorder from within and without . . . Well-researched, witty, honest and irreverent, Adam's account proves as irresistible as his subject." —Kirkus (starred review)

"Riveting, at times disturbing, but always enlightening . . . For all the impressive marshaling of information, it is Adam's own story of his struggles with the condition . . . that is the most captivating aspect of this impressive work. Adam clearly shows both the devastating impact our thoughts can have when they turn against us, and how science is helping us fight back" —Booklist (starred review)

"In a wide-reaching discussion that spans the spectrum of obsession, Nature editor David Adam strikes an impressive balance between humor and poignancy, and between entertaining and informing. Adam seamlessly moves between personal stories of his own struggles with OCD and case studies of other people with the disorder . . . while his smooth prose ensures an enjoyable read." —Publishers Weekly

"[A] fascinating study of the living nightmare that is obsessive compulsive disorder . . . [David Adam] has written one of the best and most readable studies of a mental illness to have emerged in recent years . . . [The Man Who Couldn't Stop is] a wide-ranging exploration of the illness, looking at possible causes and cures. It takes in traditional psychiatry, . . .evolutionary psychology, genetics, aversion therapy, philosophy, social history, religion, neuroscience, anthropology and even zoology . . . An honest and open and, yes, maybe life-changing work." —Matt Haig, The Observer (London)

"Adam, an award-winning science writer and editor at the journal Nature, is uniquely placed to examine the genetic, evolutionary, psychological, medical and 'just plain unfortunate' possible causes of OCD. He does so with vigour, sharp analysis, compassion and occasional humor . . . A clear-sighted and eminently accessible account . . . The Man Who Couldn't Stop is a fundamentally important book." —Helen Davis, The Sunday Times (London)

"[An] engaging, exhaustively researched neuro memoir, a blend of brain science and personal history." —Melanie McGrath, Evening Standard

"A captivating first-person account of how a blizzard of unwanted thoughts can become a personal nightmare. At times shocking, at times tragic, at times unbelievably funny, it is a wonderful read." —James Lloyd, BBC Focus

"This blew me away. Stunning." —Ian Sample, The Guardian
The Man Who Couldn't Stop: OCD and the True Story of a Life Lost in Thought (Paperback)