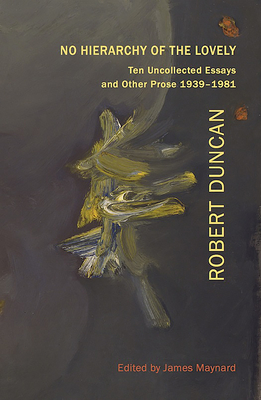 $20.70
Usually Available/Ships in 5-7 Business Days
This book is non-returnable.
Description
---
Literary Nonfiction. Poetry. Essays. NO HIERARCHY OF THE LOVELY celebrates the hundredth anniversary of the birth of the poet Robert Duncan, a key figure of the San Francisco Renaissance and the Black Mountain school of poetry, by recognizing his accomplishments as a prose writer. Comprised of ten texts published throughout each of the six decades of his writing, this volume brings together a wide variety of Duncan's uncollected prose. As for their content, these writings touch upon some of the larger issues in poetry and poetics that Duncan explored throughout the course of his life. Together, they demonstrate the challenge that Duncan's work still presents for anyone who would be a serious reader of creative events and his continuing reminder of the need to keep open and vulnerable the boundaries of our imagination in the universe.
No Hierarchy of the Lovely: Ten Uncollected Essays and Other Prose 1939-1981 (Paperback)