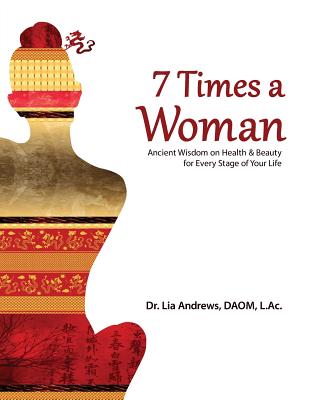 Email or call for price
Backordered
This book is non-returnable.
Description
---
The Practical Reference Guide on Women's Health in Traditional Chinese Medicine
Get your copy and learn how to understand your cycles and transform your life

7 Times a Woman is the product of a 20 year personal and clinical journey in understanding and balancing women's cycles. It began with Dr. Andrews' personal health challenges which led her to become an acupuncturist and open her own clinic where she has helped many women heal from hormonal imbalances. 7 Times a Woman is a reference book for women's health, covering daily, monthly, yearly, and 7 year cycle care to increase beauty and vitality. It educates women on the topics of conception, childhood, menstruation, postpartum, menopause, detoxification, rejuvenation, Daoist sexual cultivation, Inner Alchemy, and senior care. 7 Times a Woman includes over 50 meditations, qigong exercises, and practices and over 70 recipes and herbal formulas women can use to transform themselves.
For lay women, 7 Times a Woman will show you how to look and feel your best at every age:

Stay juicy and vital after menopause
Keep your figure and your mind after childbirth
Learn ancient Daoist meditation, sexual alchemy, and beauty secrets
Use safe detox and weight loss strategies
For acupuncturists, 7 Times a Woman gives you herbal formulas, point prescriptions, diet plans, and strategies for common female maladies so you can:

Alleviate PMS, menstrual cramps, and yeast infections
Heal postpartum weight gain, low libido, and depression
Quickly treat hot flashes, vaginal dryness, insomnia, and other menopausal symptoms
And much more

About the Author
---
Dr. Lia G. Andrews, DAOM, L.Ac. was born in Norwalk, Connecticut. She attended Bryn Mawr College and the College of William & Mary, where she received her BA in International Studies. She received her Masters in Acupuncture and Traditional Chinese Medicine (MATCM) from Yo San University. Dr. Andrews received her Doctorate of Acupuncture and Oriental Medicine (DAOM) from Pacific College of Oriental Medicine. She is licensed nationally and in the state of California. She practices in the clinic she founded with her mother, Cinnabar Acupuncture Clinic & Spa in San Diego, California.
7 Times a Woman: Ancient Wisdom on Health and Beauty for Every Stage of Your Life (Paperback)