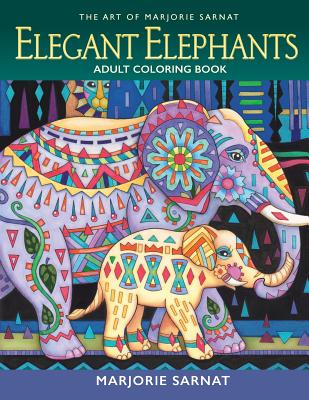 Email or call for price
Usually Available/Ships in 5-7 Business Days
This book is non-returnable.
Description
---
34 Illustrations for Elephant Lovers to Color
Marjorie Sarnat delights the colorist with these original elephant illustrations, hand drawn in her much loved, imaginative style. Inspired by the strength, intelligence, and spirituality of this beloved creature, Elegant Elephants Adult Coloring Book celebrates the majesty of African elephants, ancient elephant mythology of India, and elephant lore and fantasy. With bold bulls, cute cows, and cuddly calves, this parade of pachyderms will enchant anyone who loves elephants. The images range from heartwarming to majestic giving you inspiration in each themed illustration complete with borders and gorgeous backgrounds.
It will provide hours of relaxing coloring, making it a gratifying and fun challenge for colorists of all skill levels. Designs are printed only on one side on medium weight bright white paper, making for easier coloring. Elephants are in danger of abuse and extinction worldwide. We donate a portion of the net profits from Elegant Elephants to 96 Elephants, a campaign to stop the illegal trafficking of ivory and to protect and save elephants' lives.
The Art of Marjorie Sarnat: Elegant Elephants Adult Coloring Book (Paperback)