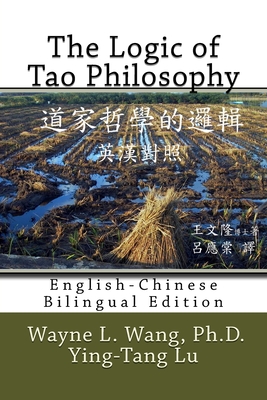 $17.83

Usually Available/Ships in 5-7 Business Days
This book is non-returnable.
Description
---
Boldly said, this book will change the historical view of Tao philosophy. We have discovered a clear principle of Tao by a systematic analysis of the first Chapter of the Tao Te Ching. The logic of Tao philosophy is essentially the same as that of the Pre-Socratic philosopher Parmenides, the Indian and Buddhist philosopher. The author uses a very simple scientific methodology to show the logic of Tao philosophy. Most people may frown upon any systematic study of the Tao Te Ching. Therefore, any such attempt will have to face a formidable tradition of mysterious speculations about Tao. It will be difficult to convince anyone that there is a clear principle in Tao philosophy. Nevertheless, we shall show that it is an authentic philosophy of nature and Lao-tzu is a logical philosopher. Our conclusion is completely contrary to the prevailing view and is a significant and accidental discovery. We started this project without any anticipation of such a result. However, after a long period of analysis, it has become clear that there is a clear principle of Tao philosophy, with a clear logical structure. We shall carefully provide convincing evidence for the reader.
About the Author
---
Wayne L. Wang has been an independent researcher on Tao philosophy since 1999. He became interested in Tao philosophy because the Tao Te Ching has been treated as a mysterious philosophy, but shows some similarities to scientific phenomena. He has devoted his time in further clarification of the principle of Tao philosophy. He has published The Basic Theory of Tao Philosophy (2006), which shows an initial scientific model reflecting the Tai-ji relationship in Tao. He first published a complete logic structure in a Chinese article The Logic of Tao Philosophy (2012). The model and its application are summarized in two books: The Logic of Tao Philosophy (2013) and Tao Te Ching: An Ultimate Translation (2013). These works represent a major milestone in his search for the foundation of Tao philosophy. This makes a logical and self-consistent translation of the Tao Te Ching possible. He holds a Ph. D. degree from M. I. T. and resides near Chicago, Illinois, USA. Please send your comments and suggestions to: email: wwwang@alum.mit.edu. Website: http: //www.dynamictao.com/
The Logic of Tao Philosophy: English-Chinese Bilingual Edition (Searching for Tao #5) (Paperback)