I Am Coyote (Paperback)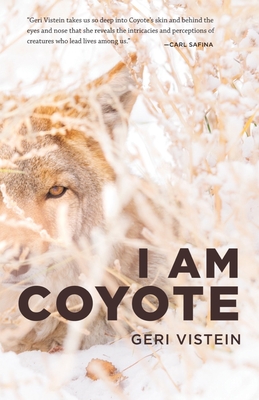 $9.95

Usually Available/Ships in 5-7 Business Days
Description
---
Coyote is three years old when she leaves her family in Algonquin Provincial Park in Ontario and embarks on a 500-mile odyssey eastward in search of a territory of her own and a mate to share it with.
Journeying by night through the dead of winter, she endures extreme cold, hunger, and a harrowing crossing of the St. Lawrence River in Montreal before her cries of loneliness are finally answered in the wilds of Maine. The mate she finds must gnaw off a paw to escape a trap.  The first coyotes in the northern U.S., they raise pups (losing several), experience summer plenty, winter hardship, playfulness, and unmistakable love and grief.  Blending science and imagination with magical results, this story tells how coyotes may have populated a land desperately in need of a keystone predator, and no one who reads it will doubt the value of their ecological role.


Told through the eyes of a coyote, this is a riveting story with mythic dimensions.


A work of creative nonfiction that adheres to the highest standards of wildlife biology.


With deep insights into wild canine behavior, penetrates the veil of "otherness" that separates us from the animals with whom we share the planet.


An appendix explores the history and current status of coyotes in North America. Native Americans considered them tricksters, messengers, and companions. Given the disappearance of wolves, they are even more critical to ecosystem health today. The author explains how, without coyotes, prey species are weakened by disease and parasites.


Geri Vistein speaks extensively about coyote-human interactions to a variety of audiences. She is a nationally recognized expert on the topic and maintains the website CoyoteLivesInMaine.com.


A QR code in the book takes readers to a hauntingly beautiful recording of coyote song.


About the Author
---
Geri Vistein (Brunswick, ME) holds masters degrees in education and conservation biology and is a member of the Project Coyote team of specialists who seek to foster peaceful coexistence between humans and coyotes throughout North America. Formerly a classroom teacher, she has studied grizzly bears in Montana, bobcats in Vermont, lynx in Canada, and prey species (elk and snowshoe hare) in Yellowstone National Park. An advocate for the restoration and protection of large predators in their native habitats, she collaborates with state and federal wildlife biologists and educates farmers on the beneficial impacts of coyotes. Geri speaks extensively about coyote-human interactions.
Praise For…
---
Far from anthropomorphizing Coyote, the novel provides
a cautious glimpse into the inner world of the coyote through Vistein's
captivating storytelling. This book should be on everyone's "must-read" list,
and would make an excellent read-aloud or novel study in an intermediate or
middle school classroom.
— Kim Zumach - Green Teacher

...A sensitive, passionate story told from an
intriguing point of view.
— Kirkus

This
is not a book about "a species of animal" and what "it" does. Geri Vistein
takes us so deep into Coyote's skin and behind the eyes and nose that she
reveals for us the intricacies and perceptions of creatures who lead lives
among us. This is the right perspective for understanding who we are here with
on Earth. Vistein has chosen one of the absolutely most wondrous
fellow-creatures in America to make our introduction.
— Carl Safina, author of Beyond Words; What Animals Think and Feel

This is a simple yet intricate case study, rather than more
conventional animal fiction. Readers will come away with a genuine
appreciation for these creatures and their role in nature. VERDICT This
unique addition will serve students who are fascinated by wildlife and
truly interested in understanding how ecosystems work.
— School Library Journal