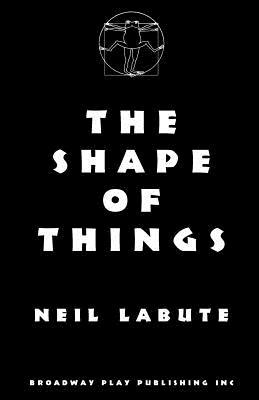 $11.95
Usually Available/Ships in 5-7 Business Days
This book is non-returnable.
Description
---
How far would you go for love? For art? What would you be willing to change? What price might you pay? Such are the painful questions explored by Neil LaBute in THE SHAPE OF THINGS. A young student drifts into an ever-changing relationship with an art major while his best friends' engagement crumbles, so unleashing a drama that peels back the skin of two modern-day relationships. "Any shrewd chap who finds his artist girlfriend has a video-camera in the bedroom to film the cut and thrust of their sexual action might well fear he was destined to end up as her artistic fodder. But in THE SHAPE OF THINGS, Neil LaBute's absolutely chilling report from the sex war's frontline, where stratagems for sexual humiliations are planned, Adam, the shy chap concerned, takes the video-camera, so to speak, lying down. LaBute, the remarkable American movie director and playwright whose film In the Company of Men showed a sexually unappealing woman exploited by two vengeful pretend lovers, now returns to this theme. This time it's a man who's the victim of female guile ... LaBute meticulously plans that the shocking, climatic revelations should cast dark light upon his apparently average people." -Nicholas de Jongh, The Standard " LaBute] continues to probe the fascinating dark side of individualism, whose ultimate evil is an inability to imagine the suffering of others ... LaBute's great gift is to live in and to chronicle that murky area of not knowing, which mankind spends much of its waking life denying. Where does truth end and fiction begin? Is the fiction more valuable than the truth? Do the results justify the means?" -John Lahr, The New Yorker "What is art? What are you permitted to do in its name? ... These questions are thrown up by a piece whose intricate layers of treachery are worthy of David Mamet ..." -Paul Taylor, The Independent "LaBute is a smart, ambitious writer who, at his best, dares to explore the ambivalence hiding under the weave of our social fabric. He always has a serious intellectual project in mind, and here he aims at no less than the subjectivity of love and the definition of art itself. THE SHAPE OF THINGS is compulsively watchable." -Gordon Cox, Newsday "LaBute is the most gifted, intelligent and wittily moral American playwright since Wallace Shawn; that is high praise, believe me. And this play marks his theatrical maturity. It's a must see." -Michael Coveney, Daily Mail.
The Shape Of Things (Paperback)