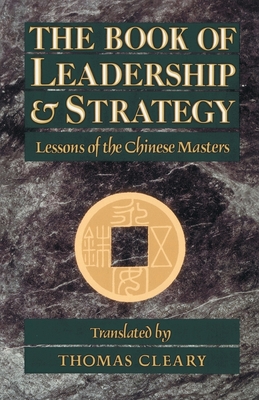 $18.95
Email or call for price.
Description
---
The subtle arts of management and leadership have been developed over thousands of years by the Chinese. The Book of Leadership and Strategy represents the Taoist culmination of this long tradition and is one of the most prestigious works of ancient Chinese thought. Collected here are insightful teachings on the challenges of leadership on all levels, from organizational management to political statecraft. The translator, Thomas Cleary, has chosen and arranged these teachings to emphasize the most valuable lessons of Taoist wisdom for modern Western readers. Like Cleary's best-selling translation of The Art of War by Sun Tzu, this work will serve as an enlightening guide for people in business, politics, and government.
About the Author
---
Thomas Cleary holds a PhD in East Asian Languages and Civilizations from Harvard University and a JD from the University of California, Berkeley, Boalt Hall School of Law. He is the translator of over fifty volumes of Buddhist, Taoist, Confucian, and Islamic texts from Sanskrit, Chinese, Japanese, Pali, and Arabic.
Praise For…
---
"Are leaders born or made? If leadership skills can be imparted at all through words, this book, written some 2,000 years ago, offers some possibilities. And leave it to Thomas Cleary, who translates difficult works twice as fast as most of us read them, to bring us a crucial addition to classical tracts on war and leadership."—Japan Times

"This is wisdom for the new age. It's almost spooky how relevant are the words of these Taoist sages in this time of government excess and civil unrest. There are lessons here that our leaders and executives, and perhaps most importantly our children, could profit by."—Thom Calandra, financial columnist, San Francisco Examiner
The Book of Leadership and Strategy: Lessons of the Chinese Masters (Paperback)