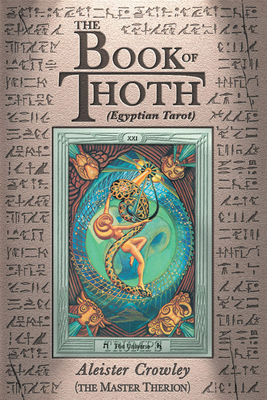 $28.95

Usually Available/Ships in 5-7 Business Days
Description
---
The occult classic study of the tarot and as a key to all Western mystery traditions.

Used for many years by students of the occult for study of the tarot and as a key to all Western mystery traditions, The Book of Thoth is on the short list of must-have textbooks for modern students of the tarot and esoteric studies.

"The Tarot is a pictorial representation of the Forces of Nature as conceived by the Ancients according to a conventional symbolism. At first sight one would suppose this arrangement to be arbitrary, but it is not. It is necessitated by the structure of the universe, and in particular of the Solar System, as symbolized by the Holy Qabalah."—Aleister Crowley

The Thoth Tarot Deck (or "Crowley Deck" as it is more widely known) is one of the most popular decks in current use. It is also one of the most original interpretations of the tarot, incorporating astrological, numerological, and Qabalistic symbolism. The Thoth Tarot codifies a wealth of wisdom and traditional lore in a suite of 78 miniature paintings of deceptive simplicity.
About the Author
---
Aleister Crowley (1875-1947) was the most widely read author in 20th-century occultism. He single-handedly redefined magic as a field of inquiry and endeavor through his books and the order that he led--the A.A. and the O.T.O. He is the author several books including The Book of the Law, 777 & Other Qabalistic Writings, and The Book of Thoth.
Praise For…
---
"The Book of Thoth is an indispensable companion to the deck, and the most authoritative and reliable guide to the Tarot in the New Aeon." 
— Hymenaeus Beta, Frater Superior, O.T.O.
The Book of Thoth: (Egyptian Tarot) (Paperback)