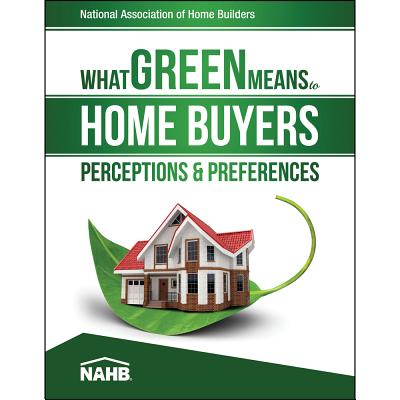 Description
---
What home and community features influence consumers when they are considering buying a home? Energy efficient or high efficiency: Which description resonates more with home buyers?

Typical home buyers often don't understand the language building professionals use to market green homes. We can meet this challenge by rethinking how we talk to our customers. In the Spring of 2015, the NAHB Sustainability & Green Building and the Economics & Housing Policy Groups partnered to conduct a study of consumer preferences focusing exclusively on green/high-performance features in the home and the community.

What Green Means to Home Buyers: Perceptions and Preferences discusses the latest data on the green and performance-related messages consumers respond to—and what they are willing to pay for.
About the Author
---
The National Association of Home Builders is a Washington-based trade association representing more than 140,000 members involved in home building, remodeling, multifamily construction, property management, subcontracting, design, housing finance, building product manufacturing and other aspects of residential and light commercial construction. NAHB is affiliated with 700 state and local home builders associations around the country. NAHB's builder members will construct about 80 percent of the new housing units projected for this year. As the primary source of information and expertise on environmental rules and regulations for home builders and remodelers, the Environmental Issues Committee also provides technical and compliance assistance and educational services to members. The committee has one subcommittee, which is dedicated to environmental research and education.
What Green Means to Home Buyers: Perceptions & Preferences (Paperback)