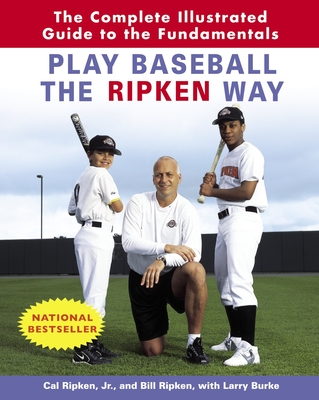 Description
---
Every year, hundreds of thousands of children play "Cal Ripken Baseball" in the largest division of Babe Ruth League, Inc. Play Baseball the Ripken Way is the ultimate guide to playing the game, by one of the sport's living legends.

Baseball is America's national pastime, but that doesn't mean we're all born naturals. Kids of all ages (and their parents) are eager to improve specific skills, and now they can learn from one of the most respected baseball families in history. Cal and Bill Ripken have written a thoroughly illustrated instructional book that clearly explains proper baseball fundamentals—hitting, fielding, baserunning, pitching, and much more.

Based on the teachings of the late Cal Ripken, Sr., a player, coach, manager, and scout in the Baltimore Orioles system for thirty-seven years, Play Baseball the Ripken Way shows players just what they need to do to be their best while maintaining a sense of fun and accomplishment with every new lesson. The Ripken Way consists of the following principles:

*Keep It Simple: Teaching that is too complicated is difficult to remember and can result in frustration.

*Explain Why: A teacher who cannot explain why is not truly teaching. Lessons that make sense will stick with players.

*Celebrate the Individual: No two players are alike, so why treat them as if they are?

*Make It Fun: The game gets serious enough quickly enough on its own. Drills and instruction should be structured so that players can enjoy themselves while learning.

The book also includes tips for parents and coaches, practice workouts, and drills for players of every level.
About the Author
---
CAL and BILL RIPKEN are co-owners of Ripken Baseball, which runs youth camps nationwide. They recently opened the Ripken Youth Baseball Academy in their hometown of Aberdeen, Maryland. Cal Ripken, Jr., holds one of baseball's most respected records: He played in a record-setting 2,632 consecutive games, surpassing Lou Gehrig's streak of 2,130 straight games, which was thought to be unbeatable. The American League Rookie of the Year in 1982, the AL's Most Valuable Player in 1983 and 1991, and an All-Star nineteen times (the most in AL history), he is one of only seven players in Major League history with 400 homers and 3,000 hits. Bill Ripken is a twelve-year Major League veteran who played for the Baltimore Orioles and the Texas Rangers, among other teams. LARRY BURKE is the baseball editor of Sports Illustrated and the author of three books on the sport.
Praise For…
---
"The Ripken brothers' dedication to kids and youth baseball is undeniable and this book is a great example of how much they love the game. I couldn't think of anyone more qualified to teach kids, parents and coaches than Cal and I strongly recommend this book to anyone who wants to learn how to play the game the right way…The Ripken Way."
-Alex Rodriguez, 2003 American League Most Valuable Player
Play Baseball the Ripken Way: The Complete Illustrated Guide to the Fundamentals (Paperback)