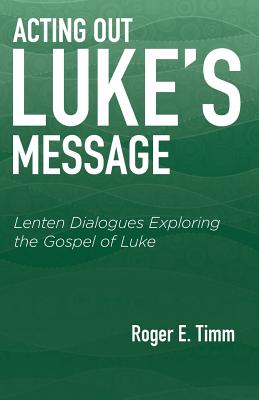 $14.95

Usually Available/Ships in 5-7 Business Days
Description
---
Roger Timm follows up his previous volumes "Acting Out the Messages of Mark and John" and "Acting Out Matthew's Message" with another poignant collection of dialogues." Acting Out Luke's Message: Lenten Dialogues Exploring the Gospel of Luke" includes three series of Lenten dialogues based on the Gospel of Luke, intended for use during Cycle C of the Revised Common Lectionary, plus a fourth series on Lenten Commemorations. Working with the assumption that Lent is a time for study and reflection and avoiding a focus on the Passion narrative before Holy Week, Timm wrote each of these series to explore messages from Luke from multiple perspectives.

The conversations in these dialogues are intended to be realistic and to express the good-natured banter that might occur between friends or family members. Dialogue participants should be encouraged to emphasize these moments of humor in the script. These dialogues may be used for a midweek Lenten gathering, a Sunday worship service, a retreat setting, or private and group devotionals.

"Roger Timm has created a wonderful four-set series of Lenten dialogues based on Lucan themesto use in any of a variety of settings including Lenten worship or with Lenten study groups. His dialogues are engaging, thought-provoking, informative and challenging. This is a great resource for engaging people in thoughtful, faithful reflection and conversation."
Karen Matthias-Long
Associate of the Bishop
Northeastern Pennsylvania Synod/ELCA


Some of the dialogues include:
"The Good Samaritan
The Rich Fool
The Dishonest Manager
The Rich Man and Lazarus
Mary, the Mother of Our Lord
"

The Rev. Dr. Roger E. Timmretired in 2011 after serving eleven years as pastor of Ascension Lutheran Church (ELCA) in Riverside, Illinois. From January 1993 to November 2000 he was pastor of St. James Lutheran Church, Naperville, Illinois. Timm served in various campus ministry positions from 1973 to 1992 at Carthage College, Kenosha, Wisconsin; Muhlenberg College, Allentown, Pennsylvania; University Lutheran Chapel at UCLA; and Concordia College, Bronxville, New York. Timm's first pastorate was at St. John-Concordia Lutheran Church in the south Bronx, New York, from 1970-1973. He received his M.Div. degree from Concordia Seminary and an M.A. in philosophy from Washington University, both in St. Louis, Missouri, in 1970. Timm received a Ph.D. in religious studies from Union Theological Seminary and Columbia University, New York, in 1975. Pastor Timm and his wife Marilyn have two adult daughters and two grandchildren.


Acting Out Luke's Message: Lenten Dialogues Exploring the Gospel of Luke (Paperback)