What You Sow (Mass Market)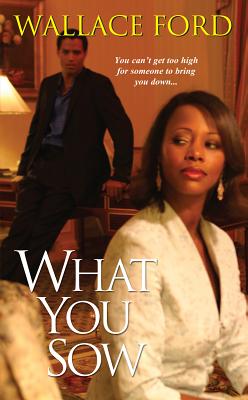 $6.99
Special Order - Subject to availability, call or email to order
Description
---
"Another tale of raw ambition gone wild among high-powered African-Americans…."
–Booklist
 
Gordon Perkins is one of Wall Street's most successful investment bankers. But his hunger for money can't match his appetite for cocaine. After one line too many, he's lying in a coma…
 
Paul Taylor is a lawyer, businessman, and recently remarried to brilliant Deirdre. He thinks he has everything—until his world is suddenly turned upside down…
 
Kenitra Perkins is leading a glamorous life, thanks to the millions her husband, Gordon, hid away for his schemes. Now she must ensure that Gordon doesn't make a miraculous recovery…
 
Jerome Hardaway is a widower with two sons to raise and a business to run. He just has to make sure his company can survive anything—even the possible return of Gordon.
About the Author
---
WALLACE FORD is a graduate of Dartmouth College, where he was a Senior Fellow, and Harvard Law School. He is the principal of Fordworks Associates, a management consulting firm, and has been a member of the faculty at Columbia University's School of International and Public Affairs, and a practicing lawyer. Working extensively in Africa, Europe, and the Caribbean, his clients have included the Johannesburg Stock Exchange, the Irish Stock Exchange, the Republic of Haiti, and the National Investment Bank of Jamaica.
 
In addition to working as a corporate lawyer, he has been an investment banker, professional actor, manager of a venture capital company, and a feature writer for Essence® and Turning Point magazines. In the public sector, he has been President of the State of New York Mortgage Agency and Commissioner of the New York City Department of Business Services. He has also been a speechwriter for members of Congress, mayors, and business leaders. Ford resides in New York City with his son, Wallace III.