Spanish - English Illustrated Dictionary: A Bilingual Visual Guide to Over 10,000 Spanish Words and Phrases (Paperback)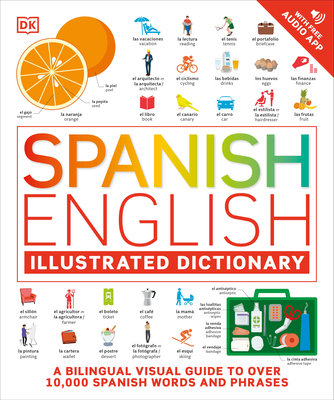 $30.00
Special Order - Subject to availability, call or email to order
Description
---
Learn more than 10,000 of the most useful words and phrases in Spanish with this beautifully illustrated dictionary for Spanish-language students.

Building on the success of the English for Everyone course books and the Bilingual Visual Dictionary series, the Spanish English Illustrated Dictionary uses crystal-clear illustrations to show the meaning of over 10,000 words of Spanish vocabulary. 

The words are shown in a visual context in themed sections covering practical or everyday topics (such as shopping, food, or study), providing learners with all the vocabulary they need for work, travel, and leisure. 

Fancy becoming an expert in the language? Then open the pages of this Spanish dictionary to discover:

- A comprehensive guide to a wide range of useful Spanish words and expressions.
- Structured in clear sections based around a theme (e.g. sports, food and drink, transport).
- Clear, attractive illustrations make the vocabulary easy to understand and remember.
- Includes a beautiful illustration at the start of the section that sets the theme in context.


Spanish English Illustrated Dictionary is incredibly easy to use and can be used for self-study or as a reference in the classroom, and is suitable for learners at all levels, from beginner to advanced.


Learning Spanish vocabulary has never been easier with this visually stunning dictionary!
About the Author
---
We believe in the power of discovery. That's why we create books for everyone that explore ideas and nurture curiosity about the world we live in.
 
From first words to the Big Bang, from the wonders of nature to city adventures, you will find expert knowledge, hours of fun and endless inspiration in the pages of our books. 

https://www.dk.com/