Living in the Desert: Stunning Desert Homes and Houses (Hardcover)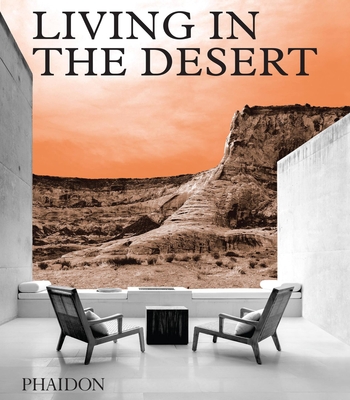 Description
---
A carefully curated and beautifully photographed selection of 50 architect-designed houses that reflects contemporary concerns about the unique challenges presented by life in the desert's sensitive environment
The desert provides a sense of mystery and rugged beauty that attracts architects, home owners, vacationers, and anyone looking for an escape within its arid climate. This book showcases 50 works of residential architecture from across the last few decades, each with a unique connection to the desert in which it's situated from the US, Europe, Asia, Australia and beyond.
Each building, designed by established and well-known contemporary stars as well as emerging architects, includes a short text and several exterior and interior images of its structure and surroundings.
From the publisher of Living on Water, Elemental Living and California Captured.
About the Author
---
Conceived and edited by Phaidon Editors
Praise For…
---
"A stunning selection of houses and resorts (each sleeker and more inventive than the next)."—Vogue Online
"Living in the Desert is a beautiful new book that takes us inside an array of spectacular homes and shows us what it's like to actually live in them, with all the breathtaking photography we've come to expect from the publisher."—Conde Nast Traveler Online
"If you're a design aficionado living in an arid climate, you'll take great pleasure in leafing through this tome. Page after page, the book includes 50 modern houses located in desert landscapes across the US, Europe and Asia, thoughtfully designed to withstand harsh conditions and the scorching sun... To whet your design appetite is a mix of iconic projects by both established and emerging architects... This book is a lesson in the finest contemporary architecture from the desert."—Harper's Bazaar Interiors (Dubai)
"A new book explores how the sun-baked landscapes of the desert give architects the perfect environment for experimentation."—TheSpaces.com
"Dune-strewn landscapes have become a canvas without geographical boundaries for architects and idealists alike... The outlandishly engineered dwellings featured in Living in the Desert are testament to the perfect pairing that is architecture and the desert."—AnOtherMag.com
"A visually striking compilation... Offers a unique insight into the challenges facing architects building in extreme environments... The publication provides an insight into innovative construction methods and sublime design."—AestheticaMagazine.com
"Living in the Desert takes a look at cutting-edge architectural endeavors - from Moab, Utah, to Marrakesh, Morocco?that are less survivalist and more desert chic."—Artsy
"The idea of enjoying the high life in the world's most arid expanses would have once seemed insane, but no more. A new book, Living in the Desert, showcases 50 architectural projects that manage to turn the harsh locations into luxurious escapes."—The Wall Street Journal
"Extreme habitats inspire extreme views ? and architecture to match."—World of Interiors
"Architecture and landscape porn for those who worship at the altar of Georgia O'Keeffe."—New York Magazine Online
"Dozens of diverse and surprising examples."—Aesthetica
"This book is deeply satisfying for anyone interested in architecture, the desert, or contemporary homes. It showcases unique residences across the US, Europe, Asia, Australia and beyond, illustrating the ways in which they interact with the sensitive, arid desert land."—New York Post
"An eye-popping book of architectural wonders set in arid locales from Morocco to California to Mexico. On a cold day, the fantasy of living in such a place stirs the imagination."—360 West
Explore Booksellers Swag
Support Explore by buying our swag.