National Parks of the USA Postcards (Postcard book or pack)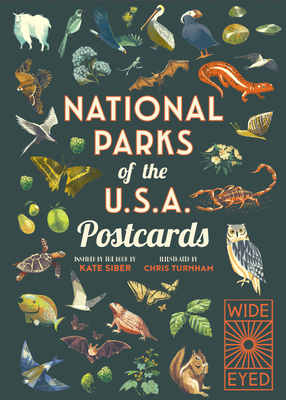 $16.99

Usually Available/Ships in 5-7 Business Days
Description
---
Set your spirit of adventure free with these 52 gorgeous postcards, each with a different vintage-style illustration showcasing the great American wilderness in all its glory.
Keep these postcards as mementos of these incredible parks, or send them out far and wide for family and friends to enjoy.
With images from the beloved, best-selling book National Parks of the USA
, these postcards feature illustrator and printmaker Chris Turnham's
stunning artwork of maps, animals, landscapes
, and the smallest details that make each of America's national parks unique.
Peer between sequoias as big as buildings in
Kings Canyon
, marvel at the frozen beauty of
Denali
, and meet manatees among the mangroves of the
Everglades
. The USA's natural wonders are on full display in this luxuriously crafted set of artworks, perfect for lovers of nature and stationery alike.
Full-bleed artwork of maps, landscapes, flora and fauna.
With space on the reverse for your message, these are ideal for sending to family and friends.
Alternatively, stick them up as vintage-feel artworks around the home.
With 52 unique designs, there's plenty to choose from, whether you're sending to others or putting on display.
A great gift for anyone who loves exploring the great outdoors.
From the volcanoes of
Hawai'i
to the windswept coast of
Acadia
, celebrate the glorious natural diversity of the USA in style.
The parks featured:
Biscayne, Everglades, Great Smoky Mountains, Acadia, Badlands, Big Bend, Isle Royale, Grand Canyon, Death Valley, Bryce Canyon, Mesa Verde, Yellowstone, Glacier, Yosemite, Olympic, Channel Islands, Sequoia and Kings Canyon, Denali, Glacier Bay, Hawai'i Volcanoes, and Virgin Islands.
Whether you're sending them to friends, decorating your fridge, or even planning a trip of your own, these lovingly made postcards are sure to inspire and amaze.
Brimming with facts, activities, and beautiful illustrations, the
National Parks of the USA series
of books immerses young people in the wonders of America's outdoors. Learn about the wonderful wildlife, stunning scenery, and rare plants that inhabit these precious outdoor spaces. Celebrate these beautiful and rare locations, and be awed by the diversity and grandeur of the national parks' living landscapes.
Also available in the series:
National Parks of the USA
and
National Parks of the USA: Activity Book
.
About the Author
---
Chris Turnham is an illustrator and printmaker based in Los Angeles. He's worked as an artist in both feature and television animation and has contributed illustrations to publications and children's books.
Kate Siber, author of the award-winning bestseller National Parks of the USA, is a journalist and a correspondent for Outside magazine living in Durango, Colorado. She has tried her hand at almost every adventure activity going, and covers the world's wild and remote places as well as environmental and social issues. Her writing has been featured in many publications, including National Geographic Traveler, National Parks, Preservation, Men's Journal, and The New York Times.