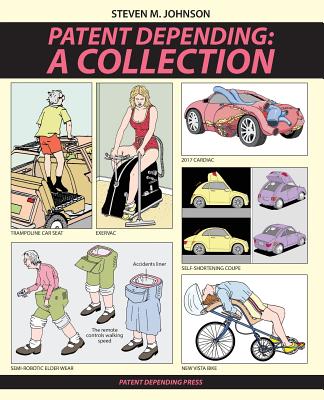 $32.44
Usually Available/Ships in 5-7 Business Days
This book is non-returnable.
Description
---
This collection represents Steven M. Johnson's 7th book; some of his books have gone to several editions. With the exception of a drawing done in 1962, most of the work included in this book was published in 1984 and 1991, though many drawings were created in intervening years up to and including 2017. Johnson began to focus on a specialty around 1974 while working as a magazine cartoonist. The specialty was whimsical variations and humorous alternative versions of existing products. Most of the drawings in this large collection of nearly 400 panels were published first in black-and-white. Select drawings have been converted to color for this volume. The style of presentation emulates the appearance of book of comics, yet the drawings are not comics, having no narrative, plot development or recognizable characters. Each panel is a separate invention or product idea with many drawings. The panels have been arranged by theme. Johnson developed a habit of thinking up product ideas while still half asleep in the morning. Notes were made before the ideas vanished from his mind. Thinking of variations intrigues him especially: An example is the fifty-six shirt and tie combinations included in this book. Some readers are sure to think that the inventions have, as an online critic noted, "already been invented." This is because in many cases, his concepts foretold future, actual products. The glasses with video or computer-generated images projected onto the inside glass surface were drawn in 1992, long before Google Glass was a product. A vacuum cleaner that is small enough to fit underneath furniture and that runs around on its own was drawn and published in 1991, long before the Roomba He has been told that he "stole" the automobile periscope from Larry David, who used the concept in his "Curb Your Enthusiasm" series, yet the drawing was first published in the mid-1980s. A reader will discover that the tone of the book varies from silly to serious. The author is comfortable thinking in either mode, and the method he employs for coming up with silly concepts is the same thaty he uses for his pessimistic images.
Patent Depending: A Collection (Paperback)