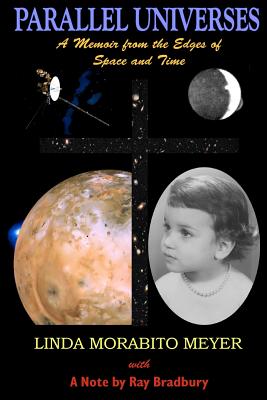 $18.40

Usually Available/Ships in 5-7 Business Days
This book is non-returnable.
Description
---
Christian miracles and science come together in one of the most riveting memoirs ever written by a world renowned scientist. Linda Morabito Meyer weaves three journeys through this candid account of her life. One journey is through space, which led Linda to make the largest discovery of NASA's planetary exploration program. One journey is through time to solve the greatest mystery a human being could ever have in her life; and the final journey is to God. Christians and scientists alike will not be able to put this memoir down, until they have arrived at all three destinations in "Parallel Universes, A Memoir from the Edges of Space and Time.
About the Author
---
Astronomer Linda Morabito Meyer is the former NASA Senior Engineer who during her decade at NASA's Jet Propulsion Laboratory made what is considered by many scientists to be the largest discovery of the planetary exploration program. She discovered that a moon of Jupiter called Io is geologically alive. She is an ambassador for space exploration speaking to teachers, students, and the general public about her love of Astronomy, and is known throughout the world for her discovery. Linda has a passion for writing about what scientists know about the universe. She reports Astronomy news on "Linda Morabito's Space Place" on Facebook, and has begun writing books, the first about her life and discovery "Parallel Universes, A Memoir from the Edges of Space and Time." While writing about the nearly inexplicable events from her early childhood, Linda learned how these events fit into the news of those times. Her journey has led her to share current advances in psychology for the treatment of trauma, and her profound religious faith through her writing. Linda has appeared frequently on science television documentaries and was a guest commentator about Astronomy on several talk shows on the Canadian Broadcast Corporation in her birthplace Vancouver, British Columbia, Canada. Linda has worked on the NASA missions Viking and Voyager, was a guest investigator on Viking, and has participated in conveying the wonders of the LCROSS, Spitzer, and Juno missions to students. Linda has received numerous awards for her NASA work and has been honored for her educational outreach work, as well as her teaching as an Associate Professor of Astronomy. Linda's second book "A Journey; Science Essays from the Leading Edge of Discovery" will be released in August of 2012. Follow Linda on her website http: //www.lindamorabito.com or on Facebook http: //www.facebook.com/linda.spaceplace
Parallel Universes, A Memoir from the Edges of Space and Time (Paperback)