Attack of the Jack! (Goosebumps Slappyworld #2) (Prebound)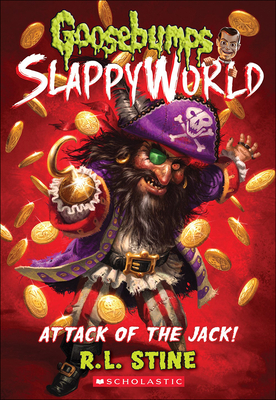 $18.25
Special Order - Subject to availability, call or email to order
Other Books in Series
This is book number 2 in the Goosebumps Slappyworld series.
Description
---
Devin and his sister Violet are visiting their Uncle Jack for the summer. He lives in an old house by the seashore. Jack was a sailor and he has collected strange and fascinating items from the sea. Exploring a back room, Devin and Violet discover a locked trunk. A pirate's chest. The trunk is wrapped in old, heavy chains and locked with a huge rusted lock. But they manage to get it open.
They lift the lid slowly-and see that it's filled with antique jack-in-the-boxes. Huh? One box is hidden under the others, covered in dust. It plays an odd unpleasant song. Up pops a very ugly, mean-looking puppet, an old pirate with a dirty red bandana over his long greasy hair, scars on his cheeks, and a beard, and one eye missing. "Thanks for letting Sailor Jack out " he rasps, bouncing on his spring. Devin and Violet now face new and troubling questions: Will Jack return them to their uncle? Just how much is a pirate's promise worth?
About the Author
---
R.L. Stine has more than 350 million English language books in print, plus international editions in 32 languages, making him one of the most popular children's authors in history. Besides Goosebumps, R.L. Stine has written other series including Fear Street, Rotten School, Mostly Ghostly, The Nightmare Room, and Dangerous Girls. R.L. Stine lives in New York with his wife, Jane, and his King Charles spaniel, Minnie. www.RLStine.com.