Pig Years (Hardcover)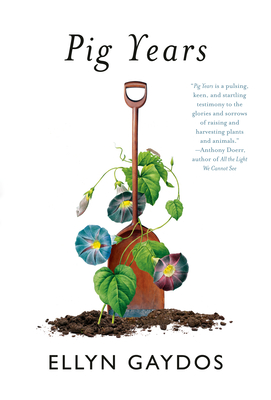 Description
---
This captivating memoir is a "startling testimony to the glories and sorrows of raising and harvesting plants and animals" (Anthony Doerr, best-selling author of All the Light We Cannot See), as an itinerant farmhand chronicles the wonders hidden within the ever-blooming seasons of life, death, and rebirth.

Pig Years catapults American nature writing into the 21st century, and has been hailed by Lydia Davis and Aimee Nezhukumatathil as "engrossing" and "a marvel." As a farmer in Upstate New York and Vermont, Ellyn Gaydos lives on the knife edge between loss and gain. Her debut memoir draws us into this precarious world, conjuring with stark simplicity the lifeblood of the farm: its livestock and stark full moons, the sharp cold days lives near to the land. Joy and tragedy are frequent bedfellows. Fields go barren and animals meet their end too soon, but then their bodies become food in a time-old human ritual. Seasonal hands are ground down by the hard work, but new relationships are formed, love blossoms and Gaydos yearns to become a mother. As winter's dark descends, Pig Years draws us into a violent and gorgeous world where pigs are star-bright symbols of hope and beauty surfaces in the furrows, the sow, even in the slaughter.

In hardy, lyrical prose that recalls the agrarian writing of Annie Dillard and Wendell Berry, Gaydos asks us to bear witness to the work that sustains us all and to reconsider what we know of survival and what saves us. Pig Years is a rapturous reckoning of love, labor, and loss within a landscape given to flux.
About the Author
---
ELLYN GAYDOS received an M.F.A. in nonfiction from Columbia University. Her work has received the Richard J. Margolis Award for nonfiction writers of social justice journalism, and appeared in The Texas Review, Columbia Journal, and Ninth Letter, where she received the 2017 award for creative nonfiction. She lives in New Lebanon, New York.

Praise For…
---
A New Yorker Best Book of the Year

"Gaydos describes in lyrical and unflinching detail the processes behind our food. . . . In Gaydos's soft and honest delivery, the struggles and joys of life — plant, human, animal — come across as neither graphic nor gratuitous, but simply real."—Sebastian Modak, The New York Times

"Evocative . . . Gaydos offers what, at first, reads like a straightforward catalogue of farm life. . . . But the tranquil simplicity belies a deeper purpose. . . . Our dominion over nature, it becomes clear, is incomplete."—The New Yorker

"Gaydos brings her experience farming, in particular breeding animals for slaughter, to a debut that's in turns lyrical and brutal. . . . It all adds up to a powerful meditation on the cycle of life. . . . This one will stick with readers long after the last page is turned."—Publishers Weekly

"What this young writer has given us is more of a memento mori, rendering realistic scenes full of vivid and sometimes bizarre detail, always with an acknowledgment — on the surface or just under it — of the inescapable facts that life entails death, and growth, and arises from decay. . . . The overall effect is of access and intimacy; Gaydos lets us into her world, and we follow her to the worthy and unforgiving place where nature and agriculture meet."—Kristin Kimball, The New York Times

"A poetic meditation on fertility, loss and the farmworkers who eke out a marginal living as long as they can. It's a narrative that evokes the pleasures and perils of life and work on a small farm. . . . Gaydos' close eye on the natural world allows us to vividly see the cycle of a farm's blossoming and dying seasons."—Sarah McCraw Crow, BookPage

"Sure to be a bestseller . . . Masterful, rapturously refreshing, and immersive writing . . . An ode to pig farming that waxes poetic in its simple majesty; readers will revel in the beautiful imagery and lyricism of this tribute to farm life. . . . Gaydos's narration is so beautiful and omniscient, it feels less like a farmer's almanac than a guided meditation. . . . Her clean linen language and sophisticated writing style is sure to move readers as it turns a pigsty into an oasis and a sunburn into a warm weather kiss. Readers will fall in love with Gaydos's humble commitment to feeding her soul through farming. More than a memoir; it's a sensory experience."—Alana R. Quarles, Library Journal

"Lyrical and cleareyed insight into farming from a writer devoted to both crafts . . . Gaydos describes the realities of farm life with honest precision, neither indulging in unnecessary dramatizing nor shying away from the numerous harsh realities. . . . A complex and fraught portrait of a lifestyle that is simultaneously protective, precarious, and resistant to change."—Kirkus Reviews

"Pig Years . . . renders the squalid beauty and blunt power of nature through her accounts of itinerant farm work. As someone who works the land, I shared in her pleasure for 'labouring outside with its attendant sensations both plain and deep.'"—Rose Higham Stainton, The White Review

"Lovers of sumptuous prose, rejoice. Pig Years delivers an intimate look inside the world of young, semi-itinerant farmers. . . . Gaydos' debut announces her as a major new voice in nonfiction. You might find yourself devouring the book in one sitting, as this reviewer did."—Benjamin Aleshire, Seven Days

"A prose poem, stained in love and death, honest and unsparing, and deeply empathetic. Gorgeous — an intimate chronicle of the physical, mental and spiritual labor required to sustain small farms, where there is nothing theoretical about the food chain and its costs . . . The most spiritual of the books. The writing! Immediate, sensual, very personal, evocative . . . A memoir of the trials and small glories of modern-day small-scale farming in America, beautifully written, harrowing, honest, eye-opening, poetic."—2023 Art of Eating Prize Judges

"[Pig Years is] unapologetic and sure-footed. Here is an author who can transport readers into the lush fecundity of raising and tending to pigs, but without the omission of the brutality of their ultimate slaughter. . . . The rhythm and inevitability of it, so lyrically rendered by Gaydos, form the music of this book. . . . The book is a vivid indictment of this human drive to consume, but it is also a reprieve in its recognition of our inevitable interconnectedness with what we seek to subjugate."—Rafia Zakaria, Air Mail

"Careful, controlled and exquisite . . . [Gaydos'] tone is serious, her prose laced with gorgeous description. . . . Pig Years is an unsparing look at a tough way of living. Gaydos is careful to bleed any romance out of the hard, hard work of farming, yet stripped to its essence, its meaning and its importance, she reveals it to be a beautiful thing."—Laurie Hertzel, Star Tribune

"Vivid . . . Meticulous and enlivened . . . Gaydos is a writer of such vigorous eloquence that you'll find yourself riveted. . . . The memoir imparts an abiding sense of the gravity of these acts—of raising, tending, and killing animals; of planting, nurturing, and harvesting vegetables—that lends an almost sacred quality to Gaydos's prose. . . . Gaydos illuminates a traditional way of life—one of grueling labor, physical exhaustion, and ravenous hunger, filled with challenges yet punctuated by exhilarating joys—that is, in our era of material carelessness, emotional detachment, and spiritual confusion, a reminder of life's elemental urgency, and, amid the magnified minutiae of each day, its astonishing beauty."—Claire Messud, Harper's Magazine

"The rhythms of Ellyn Gaydos's new memoir, Pig Years, are the rhythms of nature, of life itself and, yes, death, too. No wonder the book, with its slow burn of uncomfortable facts and sober truth, burrows under the reader's skin."—Richard Russo, Pulitzer Prize-winning author of Chances Are

"Ellyn Gaydos's accounts of her pigs and the farms they live on are told with studied compassion and exquisitely observed detail. She brings us intimately into the vital, unrelenting work of a small produce farm; we feel, with her, the biting cold and the weight of the mud, as well as the peaceful intervals of rest and human companionship. With crystalline expression, Gaydos relates her experience of a dedicated farmer's life, and her very personal testimony is an engrossing pleasure."—Lydia Davis, author of Essays: One and Essays: Two

"Pig Years is a pulsing, keen, and startling testimony to the glories and sorrows of raising and harvesting plants and animals. Its paragraphs conjure the fecundity of life, the brutality of loss, and the grace of a life lived in the grooves of the seasons."—Anthony Doerr, author of Cloud Cuckoo Land and All the Light We Cannot See

"A richy, earthy, aromatic book. It melts like a morsel of raw meat on the tongue. Ellyn Gaydos' powerful debut is a kind of devotional text, a dark pastoral with the shadow of death cast across every page—all the better to see the light glinting through. Compulsive reading—I picked it up and simply couldn't put it down." —Cal Flyn, author of Islands of Abandonment

"Ellyn Gaydos does the rare, important work of capturing rural America not in the shadow of urban spaces but standing in its own light. Pig Years gets right to the severe truths that farmers know: fresh blood is bright, butchers are often gentle souls, and survival is always a temporary state. Gaydos writes with the exquisite directness of Nature herself."—Sarah Smarsh, author of Heartland

"Pig Years is a lush account of the everyday splendor of small-farm work, from the soil to the slop, from the blades of machinery to the bodies of animals in rut. It is a love song to this labor, and to the physicality of the world."—Eula Biss, author of Having and Being Had and Notes from No Man's Land

"Pig Years is a marvel of a memoir—one to be savored. Gaydos shoulders bounty and despair with grace, modeling a radiant sense of interdependence. This book showcases a most vibrant and heartful almanac of sorts—you can hear and smell the pull of vegetables and the boots tromping around the muck and mud so clearly, you too will herald these seasons spent working and tending the land."—Aimee Nezhukumatathil, author of World of Wonders: In Praise of Fireflies, Whale Sharks, and Other Astonishments

"Pig Years by Ellyn Gaydos is delicious with brilliance and rot and green fire. We hear much about place-based writing, and that's in here, done wonderfully. But what most helps Gaydos' work shine is the daily and honest realization that the heart is a place, too. Please read this messy, beautiful book."—Rick Bass, author of For a Little While