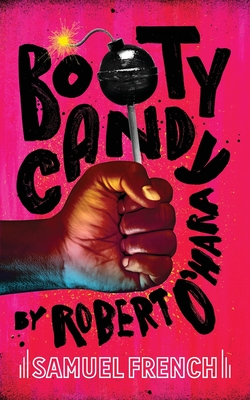 Email or call for price
Usually Available/Ships in 5-7 Business Days
This book is non-returnable.
Description
---
Robert O'Hara's semi-biographical subversive comedy exploded onto the New York theatre-scene with a critically lauded production at Playwrights Horizons. Bootycandy tells the story of Sutter, who is on an outrageous odyssey through his childhood home, his church, dive bars, motel rooms, and even nursing homes. O'Hara weaves together scenes, sermons, sketches, and daring meta-theatrics to create a kaleidoscope that interconnects to portray growing up gay and black. Robert O'Hara's uproarious satire crashes headlong into the murky terrain of pain and pleasure and... BOOTYCANDY.
Praise For…
---
"SMART, SEARING, AND SENSATIONALLY FUNNY. Robert O'Hara reveals an important asset for a playwright to make his mark: fearlessness." - Charles Isherwood, The New York Time

"EXPLOSIVE. Insanely entertaining and completely engaging." - Jesse Green, New York Magazine

"SASSY AND SAUCY! You may never think of the words 'booty' and 'candy' the same way ever again." Elisabeth Vincentelli, New York Pos

"FUNNY, SMUTTY AND ENTICINGLY SUBVERSIVE. A Toxically Satiric Portrait of American Life." - Peter Marks, Washington Pos

"The punch line in O'Hara's work? His recognition and dissection of that ill-fitting straitjacket called political correctness." - Hilton Als, New Yorker
Bootycandy (Paperback)