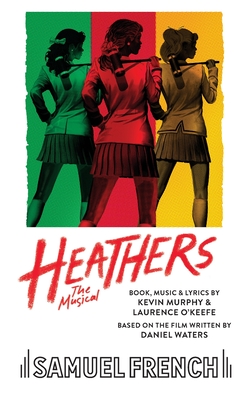 Email or call for price
Usually Available/Ships in 5-7 Business Days
This book is non-returnable.
Description
---
Full Length Musical (libretto) Dark Comedy
Kevin Murphy: Book, Music, LyricsLaurence O'Keefe: Book, Music, Lyrics
8m, 9f
2014 Off Broadway Alliance Awards Nomination, Best New Musical
Heathers The Musicalis the darkly delicious story of Veronica Sawyer, a brainy, beautiful teenage misfit who hustles her way into the most powerful and ruthless clique at Westerberg High: the Heathers. But before she can get comfortable atop the high school food chain, Veronica falls in love with the dangerously sexy new kid J.D. When Heather Chandler, the Almighty, kicks her out of the group, Veronica decides to bite the bullet and kiss Heathers aerobicized ass but J.D. has another plan for that bullet.
Brought to you by the award-winning creative team of Kevin Murphy (Reefer Madness, Desperate Housewives), Laurence OKeefe (Bat Boy, Legally Blonde) and Andy Fickman (Reefer Madness, Shes the Man). Heathers The Musical is a hilarious, heartfelt and homicidal new show based on the greatest teen comedy of all time. With its moving love story, laugh-out-loud comedy and unflinching look at the joys and anguish of high school, Heathers will be New Yorks most popular new musical. Are you in, or are you out?
Praise For…
---
"A Rowdy guilty pleasure" The New York Time"Ingenious, naughty and very funny.Heathersstill cliques." New York Post"Cue the corn nuts and much-deserved applause. HOW VERY" NY Daily News" Heathers The Musicalshould score with just about everyone." Variety
Heathers the Musical (Paperback)