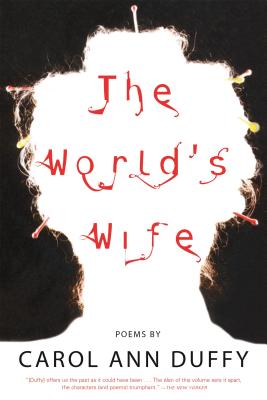 $16.00

Usually Available/Ships in 5-7 Business Days
Description
---
Be terrified.
It's you I love,
perfect man,
Greek God, my own;
but I know you'll go,
betray me, stray
from home.
So better by far for
me if you were stone.
--from "Medusa"

Stunningly original and haunting, the voices of Mrs. Midas, Queen Kong, and Frau Freud, to say nothing of the Devil's Wife herself, startle us with their wit, imagination, and incisiveness in this collection of poems written from the perspectives of the wives, sisters, or girlfris of famous -- and infamous -- male personages. Carol Ann Duffy is a master at drawing on myth and history, then subverting them in a vivid and surprising way to create poems that have the pull of the past and the crack of the contemporary.
About the Author
---
Carol Ann Duffy is the author or editor of several volumes of poetry, including The World's Wife, Rapture, and also books for children. She has received, among other honors, the Forward Prize, the Whitbread Poetry Award, the Lannan Award, and the E. M. Forster Prize for her work. A Fellow of the Royal Society of Literature, Duffy lives in Manchester, England, and is currently Professor of Contemporary Poetry at Manchester Metropolitan University.
Praise For…
---
"[Duffy] offers us the past as it could have been. . . . [Her] project recalls the poems of the Americans Ai and Pamela White Hadas, but the élan of this volume sets it apart, the characters (and poems) triumphant." —The New Yorker

"Duffy is one of the freshest and bravest talents to emerge in British poetry--any poetry--for years." —Eavan Boland, The Independent on Sunday (London)

"These thirty poems vibrate with intense colloquialisms, physicality, energy, freshness, and cheek. . . . They leap off the page even in a silent reading. . . . The best are inventive, subversive, and written with great rhythmical and rhyming dash." —Anthony Thwaite, The Sunday Telegraph (London)
The World's Wife: Poems (Paperback)