A Night Divided (Scholastic Gold) (Paperback)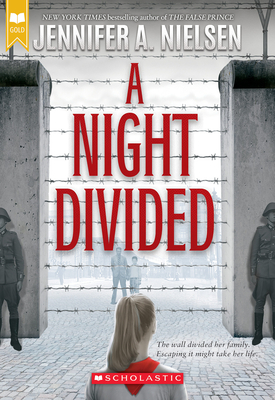 List Price: $8.99
Our Price: $7.99
(Save: $1.00 11%)
Description
---
A stunning thriller from the NEW YORK TIMES bestselling author of ICEBERG, Jennifer A. Nielsen, about a girl who must escape to freedom after the Berlin Wall divides her family between east and west.
A Night Divided joins the Scholastic Gold line, which features award-winning and beloved novels. Includes exclusive bonus content!
With the rise of the Berlin Wall, Gerta finds her family suddenly divided. She, her mother, and her brother Fritz live on the eastern side, controlled by the Soviets. Her father and middle brother, who had gone west in search of work, cannot return home. Gerta knows it is dangerous to watch the wall, yet she can't help herself. She sees the East German soldiers with their guns trained on their own citizens; she, her family, her neighbors and friends are prisoners in their own city.
But one day on her way to school, Gerta spots her father on a viewing platform on the western side, pantomiming a peculiar dance. Gerta concludes that her father wants her and Fritz to tunnel beneath the wall, out of East Berlin. However, if they are caught, the consequences will be deadly. No one can be trusted. Will Gerta and her family find their way to freedom?
Follow New York Times bestselling author Jennifer A. Nielsen on this nonstop, intrigue-filled adventure!
About the Author
---
Jennifer A. Nielsen is the acclaimed author of the New York Times and USA Today bestselling Ascendance Series: The False Prince, The Runaway King, The Shadow Throne, The Captive Kingdom, and The Shattered Castle. She also wrote the New York Times bestseller The Traitor's Game and its sequels,The Deceiver's Heart, and The Warrior's Curse; the New York Times bestselling Mark of the Thief trilogy: Mark of the Thief, Rise of the Wolf, and Wrath of the Storm; the standalone fantasy The Scourge; and the critically acclaimed historical thrillers A Night Divided, Resistance, Words on Fire, Rescue, Lines of Courage, and the forthcoming Iceberg. Jennifer collects old books, loves good theater, and thinks that a quiet afternoon in the mountains makes for a nearly perfect moment. She lives in northern Utah with her family, and is probably sneaking in a bite of dark chocolate right now. You can visit her online at jennielsen.com or follow her on Twitter and Instagram at @nielsenwriter.
Praise For…
---
Praise for A Night Divided:ILA-CBC Children's Choices List selection"Absorbing and deeply suspenseful, with plenty of ticking-clock tension... an eye-opening glimpse of history." -- Bulletin of the Center for Children's Books"A marvelously crafted historical novel about courage, perseverance and the will to survive, A Night Divided excels in every regard." -- The Reading Eagle"Distinct supporting characters... demonstrate the harrowing choices people made to survive, encouraging readers to consider what they would have done if fate and history had cast them into the story... The novel's strong setting and tense climax will keep readers engrossed and holding their breath until the last page." -- School Library Journal"History buffs will drool over the magnificently told tale, but even reluctant readers will become immersed in the tension-filled exploits." -- VOYAPraise for Mark of the Thief:* "The fast-paced, ingenious plot, charismatic hero and highly diverse cast of characters... make this series opener a captivating joy ride." -- Kirkus Reviews, starred review"Vivid... [with] page-turning twists." -- Publishers WeeklyPraise for Rise of the Wolf:"Fast-moving fun with broad audience appeal, especially recommended for reluctant readers, Rick Riordan fans, and pedal-to-the-metal adventure aficionados." -- Kirkus Reviews"The novel's Roman mythology connections... will have great appeal for fans of Rick Riordan. Heavily plot-driven with a movie-script feel." -- BooklistPraise for the Ascendance Trilogy:A New York Times Notable Children's BookA Publishers Weekly Best Book of the YearA Chicago Public Library "Best of the Best" Children's BookA Cybils Award Winner"A page-turner." -- The New York Times Book Review"Sage proves to be a compelling character whose sharp mind and shrewd self-possession will make readers eager to follow him into a sequel." -- Wall Street Journal"A swashbuckling origin story... chock-full of alluring details for adventure-loving boys." -- Los Angeles Times* "An impressive, promising story." -- Publishers Weekly, starred review"A fast-paced and thrilling read with twists and turns that never let up." -- School Library Journal"Gripping." -- Kirkus Reviews"Should appeal to fans of... Suzanne Collins... A sure-fire mix of adventure, mystery, and suspense." -- The Horn Book

Praise for A Night Divided:ILA-CBC Children's Choices List selection"Absorbing and deeply suspenseful, with plenty of ticking-clock tension... an eye-opening glimpse of history." -- Bulletin of the Center for Children's Books"A marvelously crafted historical novel about courage, perseverance and the will to survive, A Night Divided excels in every regard." -- The Reading Eagle"Distinct supporting characters... demonstrate the harrowing choices people made to survive, encouraging readers to consider what they would have done if fate and history had cast them into the story... The novel's strong setting and tense climax will keep readers engrossed and holding their breath until the last page." -- School Library Journal"History buffs will drool over the magnificently told tale, but even reluctant readers will become immersed in the tension-filled exploits." -- VOYAPraise for Mark of the Thief:* "The fast-paced, ingenious plot, charismatic hero and highly diverse cast of characters... make this series opener a captivating joy ride." -- Kirkus Reviews, starred review"Vivid... [with] page-turning twists." -- Publishers WeeklyPraise for Rise of the Wolf:"Fast-moving fun with broad audience appeal, especially recommended for reluctant readers, Rick Riordan fans, and pedal-to-the-metal adventure aficionados." -- Kirkus Reviews"The novel's Roman mythology connections... will have great appeal for fans of Rick Riordan. Heavily plot-driven with a movie-script feel." -- BooklistPraise for the Ascendance Trilogy:A New York Times Notable Children's BookA Publishers Weekly Best Book of the YearA Chicago Public Library "Best of the Best" Children's BookA Cybils Award Winner"A page-turner." -- The New York Times Book Review"Sage proves to be a compelling character whose sharp mind and shrewd self-possession will make readers eager to follow him into a sequel." -- Wall Street Journal"A swashbuckling origin story... chock-full of alluring details for adventure-loving boys." -- Los Angeles Times* "An impressive, promising story." -- Publishers Weekly, starred review"A fast-paced and thrilling read with twists and turns that never let up." -- School Library Journal"Gripping." -- Kirkus Reviews"Should appeal to fans of... Suzanne Collins... A sure-fire mix of adventure, mystery, and suspense." -- The Horn Book