I Survived the Destruction of Pompeii, AD 79 (I Survived #10) (Paperback)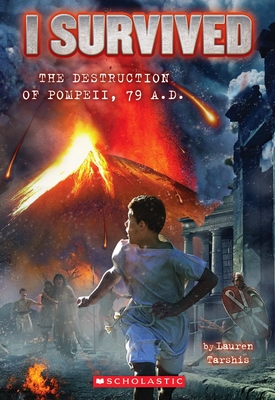 Other Books in Series
This is book number 10 in the I Survived series.
Description
---
The beast beneath the mountain is restless...No one in the bustling city of Pompeii worries when the ground trembles beneath their feet. The beast under the mountain Vesuvius, high above the city, wakes up angry sometimes -- and always goes back to sleep.But Marcus is afraid. He knows something is terribly wrong -- and his father, who trusts science more than mythical beasts, agrees. When Vesuvius explodes into a cloud of fiery ash and rocks fall from the sky like rain, will they have time to escape -- and survive the epic destruction of Pompeii?
About the Author
---
Lauren Tarshis's New York Times bestselling I Survived series tells stories of young people and their resilience and strength in the midst of unimaginable disasters and times of turmoil. Lauren has brought her signature warmth and exhaustive research to topics such as the battle of D-Day, the American Revolution, Hurricane Katrina, the bombing of Pearl Harbor, and other world events. She lives in Connecticut with her family, and can be found online at laurentarshis.com.
Praise For…
---
Praise for I SURVIVED THE BATTLE OF GETTYSBURG, 1863". . . Informative and breathlessly paced." --KIRKUS REVIEWSPraise for I SURVIVED THE ATTACKS OF SEPTEMBER 11, 2001:"[Tarshis] crafts a dramatic, emotionally intense tale that takes account of 9/11's physical and emotional costs -- short- and long-term -- while ending on an upward beat." --KIRKUS REVIEWSPraise for I SURVIVED THE SINKING OF THE TITANIC, 1912:"The fast pace and intrinsically fascinating disaster story will keep readers turning the pages." --KIRKUS REVIEWSPraise for I SURVIVED HURRICANE KATRINA, 2005:"Expressive illustrations capture the drama of the storm and its aftermath, but the book's real power comes from its exploration of what it means to be a hero." --BOOKLIST

Praise for I SURVIVED THE BATTLE OF GETTYSBURG, 1863". . . Informative and breathlessly paced." --KIRKUS REVIEWSPraise for I SURVIVED THE ATTACKS OF SEPTEMBER 11, 2001:"[Tarshis] crafts a dramatic, emotionally intense tale that takes account of 9/11's physical and emotional costs -- short- and long-term -- while ending on an upward beat." --KIRKUS REVIEWSPraise for I SURVIVED THE SINKING OF THE TITANIC, 1912:"The fast pace and intrinsically fascinating disaster story will keep readers turning the pages." --KIRKUS REVIEWSPraise for I SURVIVED HURRICANE KATRINA, 2005:"Expressive illustrations capture the drama of the storm and its aftermath, but the book's real power comes from its exploration of what it means to be a hero." --BOOKLIST