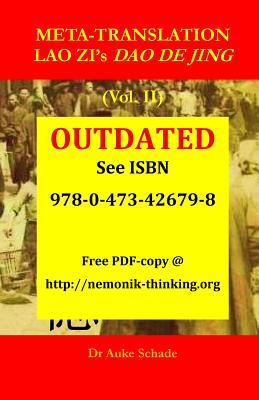 $17.25
Email or call for price.
Description
---
WARNING: This edition is updated to ISBN ISBN 978-0-473-42679-8. Free PDF copies @ http: //nemonik-thinking.org/books.html Lao Zi's Dao De Jing is one of the most intriguing legacies received from ancient China. It conveys a harmonious art of living that reaches peacefully across the boundaries of race, religion, spiritualism, ideology, and science. This meta-translation of Lao Zi's manuscript is based on an English meta-analysis and a Chinese meta-analysis. The aim of those analyses is to take optimal advantage of the expertise already accumulated in previous studies of Dao De Jing. The English meta-analysis includes the following English translations-(Chan Wing-Tsit, 1988); (Cheng Gia-Fu and English, J, 1972); (Henricks, 1993); (Land, 1990); (Lau, 1985); (Lin, J. P., 1977); (Man-ho Kwok; Palmer, M.; & Ramsay, J., 1997); (Waley, 1968); and (Wing, 1986). Furthermore, the Chinese meta-analysis includes the following Chinese versions-Wang Bi ( 249 AD); He-Shang Gong ( 157 BC); Fu Yi ( 200 BC); Mawangdui A and B ( 200 BC); and Guodian A, B, and C ( 300 BC). In contrast to popular belief, the results of this study support the notion that Dao De Jing is a secular manuscript about physics and psychology, rather than a sacred and spiritual scripture.
About the Author
---
My life started during the devastation of World War II. As a teenager, I worked as a carpenter and studied building engineering at night school. During the seventies, I became a financial manager for a multinational corporation, ran my own business, and studied economics in my spare time. My interest in the psychology of management extended to the interaction between the mind, body, and reality. In 1980, I immigrated to New Zealand where I obtained a doctorate in psychology from the University of Auckland. My mission is to make people the smartest thinkers they can be, which has led me to the development of nemonik thinking.
Meta-Translation Lao Zi's DAO de Jing (Vol. II): The Physics of Psychology (Paperback)