Jack's Wife Freda: Cooking From New York's West Village (Hardcover)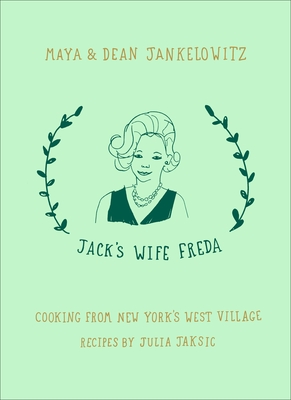 $40.00
Special Order - Subject to availability, call or email to order
Description
---
"Walking into Jack's Wife Freda feels like a big, warm hug. Maya and Dean serve food you want to eat, anytime, any day. Though I'll never stop parking myself at their restaurants, I can't wait to re-create their favorites (and mine) at home."—Jessica Seinfeld, bestselling author of Deceptively Delicious, The Can't Cook Book, and Food Swings

From Jack's Wife Freda, the New York City neighborhood restaurants with a worldwide following, a gorgeously illustrated cookbook filled with beloved recipes for accessible, delicious, and inventive Jewish comfort-food cooking at home.

Jack's Wife Freda, a pair of downtown restaurants whose signs bear the illustrated face of their namesake grandma, have become part of the epicenter of Jewish comfort-food dining in New York's Greenwich Village. With their communal, casual vibe and detailed coziness, the restaurants feel like home, and everyone--from the many local regulars to thousands of tourists just passing through--is greeted like family by owners Maya and Dean Jankelowitz, and their staff. And the food is another reason you never want to leave. A tempting and imaginative meld of Jewish immigrant traditions and recipes, the menu crafted by chef Julia Jaksic borrows from the Ashkenazi and Sephardic dishes of the Jankelowitz's respective childhoods, along with the flavors of South African and Israeli cooking. Fans line up on Carmine and Lafayette Streets each morning for a taste of the legendary spicy baked Shakshuka, Eggs Benny with Beet Hollandaise, or Rosewater Waffles with Honey Syrup. The bustling lunch crowd digs into classics like Matzoh Ball Soup, paired with new favorites like Peri-Peri Chicken Wings infused with African bird's eye chili, and Maya's Grain Bowl with Turmeric Tahini Dressing. Refreshing daytime drinks including Cantaloupe Juice and Nana Tea give way to a signature New York Sour at five o'clock, alongside an appetizer of Fried Zucchini Chips with Smoked Paprika Aioli or Haloumi with Grapes. Dinnertime brings delectable crowd-pleasers that home cooks will turn to again and again: Spiced Rack of Lamb with Herbed Israeli Couscous, Duck Tagine, and Freda's Fish Balls. Malva Pudding, Yogurt Panna Cotta with Rose Syrup and more are a perfect end to any meal.

Good food enjoyed with friends and family is the foundation of Jack's Wife Freda, and Maya and Dean bring the same vibrant energy and love of great cooking and healthful eating to their first cookbook. Whether you live around the corner and pop in regularly for a favorite meal or look forward to an out-of-town visit, this beautifully illustrated and user-friendly book makes it easy to eat from Jack's Wife Freda all day, every day.


Follow on Instagram @jackswifefreda. 
About the Author
---
Dean and Maya Jankelowitz are the co-owners of Jack's Wife Freda, the wildly popular pair of identically named restaurants in New York City's Greenwich Village and Soho neighborhoods. They have two children and live in downtown Manhattan.

Julia Jaksic attended Le Cordon Bleu in Chicago. She cooked at several restaurants there, before moving to Manhattan to work with Missy Robins at the SoHo Grand Hotel. She became Chef of Employees Only in 2006, where she is currently Executive Chef and consultant. She works as a consultant on various restaurants in New York City, Brooklyn, and with the Jack's Wife Freda restaurants in SoHo and the West Village. Jaksic specializes in fresh, simple flavors and slow food cooking. She learned butchering from her father, who worked in New York's Meatpacking District in the 1970s, and is producing a documentary inspired by her childhood in butcher shops about the production of food in America. Jaksic lives in New York and Nashville, Tennessee.
Praise For…
---
"Maya and Dean Jankelowitz have an arsenal of recipes suited to home cooks....The approachable, vibrant dishes transport a little of the neighborhood joints' sunny brunch vibes directly to your home."
—Alainna Lexie Beddie, T: The New York Times Style Magazine 

"Melding South African flavors, Parisian mainstays, Israeli side dishes, Greek standards, and Jewish home cooking…with the magic of the restaurant bottled up in the new cookbook Jack's Wife Freda, I'm finally able to replicate the experience at home…no matter which way you slice it, these recipes are pretty damn good."
—Carlye Wisel, TASTE

"Jack's Wife Freda portrays the restaurant's homey vibe with airy, sun-drenched photographs…There's crispy fried gefilte fish, and chicken soup floating with savory duck-fat matzo balls. The dishes in the cookbook are unfussy and bright, translating seamlessly to the home kitchen because the restaurant itself is essentially an extension of the Jankelowitzes' home."
—Leah Koenig, Tablet

"Thanks to Dean and Maya's new cookbook, we now can get our hands on some of their most-loved recipes."
—Epicurious 

"A gift to the hungry masses… Jack's Wife Freda: Cooking From New York's West Village is sure to be the must-have of any well appointed New Yorker's library…Whip up your favorite menu standbys at home - from the always classic Madame Freda (Chrissy Teigen's personal fave) to the ever delicious Green Shakshuka."
—Guest of a Guest

"The new Jack's Wife Freda cookbook…showcases how to make the eatery's signature dishes. Loaded with enticing photography, playful illustrations, and personal input from family, friends, and staff, this book celebrates the community that Jack's Wife Freda has fostered—and invites you to join."
—Nylon

"Walking into Jack's Wife Freda feels like a big, warm hug. Maya and Dean serve food you want to eat, anytime, any day. Though I'll never stop parking myself at their restaurants, I can't wait to re-create their favorites (and mine) at home." 
—Jessica Seinfeld, bestselling author of Deceptively Delicious, The Can't Cook Book, and Food Swings

"Jack's Wife Freda, even with its infamous long wait lines, has retained the spirit of not just a neighborhood joint that welcomes with a smile anyone who's willing to stop in, but has gone so far as to make you feel like family."
—Leandra Medine, ManRepeller.com

"Cooking from the Jack's Wife Freda book is a close second to experiencing the hugely popular modern South African/Middle Eastern/Jewish mash-up restaurant IRL. The pages are a mix of beautifully shot recipes (many of them customer favorites from the menu), helpful how-to's (including how to make your own duck bacon), and fun, behind-the-scenes shots of the restaurants, which reflect the warmth and happy atmosphere locals love so much … Some [recipes] take a bit of time to make, others are quick—and all are easy to follow and seriously delicious."
–goop