The Case of the Bizarre Bouquets (Hardcover)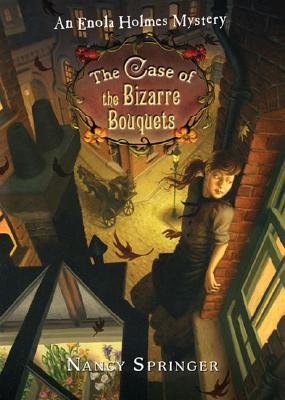 $15.74
Special Order - Subject to availability, call or email to order
Description
---
Everyone knows Dr. Watson is Sherlock Holmes? right-hand man?so when he goes missing, it's a shock. Even Sherlock hasn?t, well, the slightest clue as to where he could be. Enola is intrigued, but weary; she's still hiding from her older brothers?and getting involved could be disastrous.
But when a bizarre bouquet shows up at the Watson residence, full of convolvulus, hawthorn, and white poppies, Enola must act. She dons her most discerning disguise yet to find the sender?and quickly, for Enola knows the blossoms symbolize death
Hold your breath because Enola's about to take it away. The stakes are higher and the mystery deeper than ever before in the third installment of this Edgar-award nominated, critically acclaimed series.

About the Author
---
Nancy Springer has published forty novels for adults, young adults and children. In a career beginning shortly after she graduated from Gettysburg College in 1970, Springer wrote for ten years in the imaginary realms of mythological fantasy, then ventured on contemporary fantasy, magical realism, and women's fiction before turning her attention to children's literature. Her novels and stories for middle-grade and young adults range from contemporary realism, mystery/crime, and fantasy to her critically acclaimed novels based on the Arthurian mythos, I AM MORDRED: A TALE OF CAMELOT and I AM MORGAN LE FAY. Springer's children's books have won her two Edgar Allan Poe awards, a Carolyn W. Field award, various Children's Choice honors and numerous ALA Best Book listings. Her most recent series include the Tales of Rowan Hood, featuring Robin Hood s daughter, and the Enola Holmes mysteries, starring the much younger sister of Sherlock Holmes. Ms. Springer lives in East Berlin, Pennsylvania."