Squad Up (A Power Up Graphic Novel) (Paperback)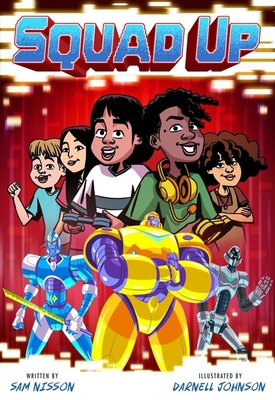 $13.99

Usually Available/Ships in 5-7 Business Days
Description
---
Sixth-graders Rhys and Miles overcome challenges in friendship and gaming in this graphic novel told in multiple art styles and set in both the real world and inside the boys' favorite video game. A sequel to Power Up.
After their victory in the Every Game Ever tournament, unstoppable video game duo and, now, IRL best friends Rhys and Miles are enjoying their last few weeks of sixth grade. Miles's successful streaming channel gives him popularity points at school. Rhys's skill in Mecha Melee attracts the attention of elite gamers from around the world. And the duo is competing to be the first ever to beat Mecha Quest 21. If life were a video game, they have definitely levelled up.
But when the challenges of gaming at this level are compounded by shifting priorities, a mysterious online bully, and the academic demands of middle school, the pressure on the duo threatens to break them apart. In this graphic novel about friendship and loyalty, Rhys and Miles discover that sometimes you need to tap your squad to get the win.
About the Author
---
Sam Nisson
has spent his working life creating worthwhile media for kids. For many years, he produced outstanding video games based on brands like I Spy and The Magic School Bus. More recently, he has worked on the Carmen Sandiego series on Netflix, and has written and directed audio shows for Pinna. He has been a constant gamer since the Atari 2600. These days, he lives in Brooklyn, where his three kids can beat him at most games most of the time.
Darnell Johnson, a Miami, Florida native, discovered his passion for art when watching Saturday morning cartoons as a kid. He would spend time designing his own characters and making comics about them. It was in high school Darnell knew he wanted to pursue a career in art. Currently he lives in Alpharetta, Georgia, with his beautiful wife and son. Darnell pulls inspiration from his faith, family, friends, and life to pour into his illustrations. He hopes the lines, colors, and shapes he makes spark the imagination of young readers.