Baby Brother's Blues: A Novel (Paperback)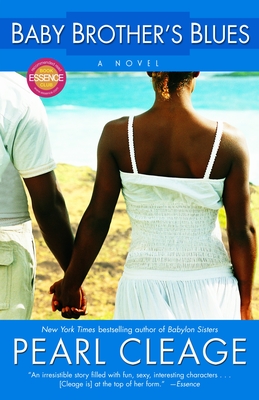 $17.00
Special Order - Subject to availability, call or email to order
Description
---
When Regina Burns married Blue Hamilton, she knew he was no ordinary man. A charismatic R&B singer who gave up his career to assume responsibility for the safety of Atlanta's West End community, Blue had created an African American urban oasis where crime and violence were virtually nonexistent. In the beginning, Regina enjoyed a circle of engaging friends and her own work as a freelance communications consultant. Most of all, she relished the company of her husband, who never ceased to be a source of passion and delight.

Then everything changed. More and more frightened women were showing up in West End, seeking Blue's protection from lovers who had suddenly become violent. When the worst offenders begin to disappear without a trace, the signs–all of them grim–seem to point toward Blue and his longtime associate, Joseph "General" Richardson. Now that Regina is pregnant, her fear for Blue's safety has become an obsession that threatens the very heart of their relationship.

At the same time, Regina's friend Aretha Hargrove is desperately trying to redefine her own marriage. Aretha's husband, Kwame, is lobbying for them to leave West End and move to midtown. Aretha resists at first, but finally agrees in an effort to rekindle the flame that first brought them together.

Regina and Aretha have no way of knowing that what they regard as their private struggles will soon become very public. When Baby Brother, a charming con man, insinuates himself into the community, it becomes clear that there is more to his handsome façade than meets the eye. He carries the seeds of change that will affect both women in profound and startling ways.

Returning to the vividly rendered Atlanta district of her last two novels, New York Times bestselling author Pearl Cleage brilliantly weaves the threads of her characters' intersecting lives into a story of family, friendship and, of course, love. Baby Brother's Blues is full of wit and warmth, illumination the core of every woman's hopes and dreams.
About the Author
---
Pearl Cleage is the author of What Looks Like Crazy on an Ordinary Day . . . , an Oprah's Book Club selection; Some Things I Never Thought I'd Do, a Good Morning America Read This! book club pick; and Babylon Sisters. She is also the author of two works of nonfiction: Mad at Miles: A Black Woman's Guide to Truth and Deals with the Devil and Other Reasons to Riot; as well as the poem We Speak Your Names. Also an accomplished dramatist, her plays include Flyin' West and Blues for an Alabama Sky. Cleage lives in Atlanta with her husband, Zaron W. Burnett Jr.

To schedule a speaking engagement, please contact American Program Bureau at www.apbspeakers.com  
Praise For…
---
Praise for Pearl Cleage and Babylon Sisters

"Pearl Cleage's wonderful new novel, Babylon Sisters, shows a writer at the top of her game, managing to weave together the eternal dance of mothers and daughters, a timeless love story, rich friendships, and international politics into a fast-paced Atlanta saga with an unforgettable villain and a thrilling climax that leaves us cheering. Cleage has once again given us a book filled with folks who are so real we think we know them, or wish we did."
–E. Lynn Harris, author of A Love of My Own

"Babylon Sisters' funny, feminine, fabulous voice sings a story of history, family, love and redemption. Cleage's ability to make the personal political and the political personal triumphs once again! Nestled in this beautifully written ode to love–of child, friends, men, and self–is a call to political activism and empowerment."
–Jill Nelson, author of Sexual Healing

"Cleage writes with amazing grace and [a] killer instinct."
–The New York Times

"A perfect blend of love and activism . . . [Cleage's] characters struggle with issues of conscience and consequence, and readers are always richer in the end."
–The Atlanta Journal-Constitution