The Death of Rex Nhongo: A Novel (Paperback)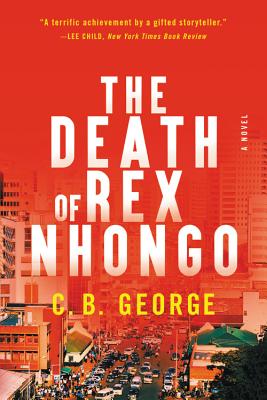 $15.99
Special Order - Subject to availability, call or email to order
Description
---
This is the Story of Five Marriages and One Gun

A British couple wonders at the unknowable city beyond their guarded compound while building walls between themselves.

An American suspects his new home is having an insidious effect on his Zimbabwean wife and their young daughter.

An enthusiastic young intellectual follows his wife to the city and finds only danger and disillusion.

An intelligence officer loses a crucial piece of evidence. It will cost him his marriage, his mistress, and maybe his life.

An impoverished taxi driver and his wife find a gun in the cab.

From this point on, all their lives are tied to the trigger.

In C.B. George's Zimbabwe, the betrayals and conspiracies of the corrupt world are nothing compared to those of marriage.
About the Author
---
C. B. George has spent many years working throughout Southern Africa. He now lives in London.
Praise For…
---
"This is a brilliantly unsettling book; its shrewd, measured, darkly atmospheric prose describes the societal, familial, and psychological conditions that make it possible to find burnt corpses in fire-proof houses."
—Helen Oyeyemi

"A terrific novel--absolutely compelling and chilling. A wonderfully astute and forensic blend of fact and fiction, lies and truth."
—William Boyd

"This is a superbly intricate novel but perhaps the best part is George's vivid portrayal of Zimbabwe as a kleptoracy, a failed state ruled by fear."
—Publishers Weekly

"With its title, The Death of Rex Nhongo suggests a nod to classic crime fiction. Yet this is no ordinary mystery...cleverly plotted [and] suspenseful....A deft commentary on the nuances of race and culture in a politically corrupt post-colonial society.... In this painfully resonant story we see the absurd fragility of our own humanity."
—Washington Post

"I was fascinated by this novel.... The narrative's eye flits from one character to another, like a camera zooming in, pausing, then moving on. These portraits are superbly achieved... This author understands people and can effortlessly marshal a large cast through emotional intricacies... A terrific achievement...[by] a gifted storyteller."
—Lee Child, New York Times Book Review

"Through the eyes of these well-rendered personalities, the reader encounters an intimate panorama of life in a dangerous city.... [C.B. George] doe a remarkable job placing a dozen or so interlocking personal stories within a larger context of greed, lust, sacrifice, hypocrisy and horror."
—Wall Street Journal