What Is Landscape? (Paperback)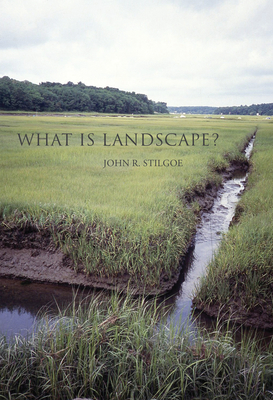 $16.95
Special Order - Subject to availability, call or email to order
Description
---
A lexicon and guide for discovering the essence of landscape.
"Mr. Stilgoe does not ask that we take his book outdoors with us; he believes that reading and experiencing landscapes are activities that should be kept separate. But, as I learned in his book, the hollow storage area in a car driver's door was once a holster, the 'secure nesting place of a pistol.' I recommend you stow your copy there."
—The Wall Street Journal
Landscape, John Stilgoe tells us, is a noun. From the old Frisian language (once spoken in coastal parts of the Netherlands and Germany), it meant shoveled land: landschop. Sixteenth-century Englishmen misheard or mispronounced this as landskep, which became landskip, then landscape, designating the surface of the earth shaped for human habitation. In What Is Landscape? Stilgoe maps the discovery of landscape by putting words to things, zeroing in on landscape's essence but also leading sideways expeditions through such sources as children's picture books, folklore, deeds, antique terminology, out-of-print dictionaries, and conversations with locals. ("What is that?" "Well, it's not really a slough, not really, it's a bayou...") He offers a highly original, cogent, compact, gracefully written narrative lexicon of landscape as word, concept, and path to discoveries.
What Is Landscape? is an invitation to walk, to notice, to ask: to see a sandcastle with a pinwheel at the beach and think of Dutch windmills—icons of triumph, markers of territory won from the sea; to walk in the woods and be amused by the Elizabethans' misuse of the Latin silvaticus (people of the woods) to coin the word savages; to see in a suburban front lawn a representation of the meadow of a medieval freehold.
Discovering landscape is good exercise for body and for mind. This book is an essential guide and companion to that exercise—to understanding, literally and figuratively, what landscape is.
About the Author
---
John R. Stilgoe is Orchard Professor in the History of Landscape at Harvard University, where he has taught for forty years. He is the author of many books, most recently Old Fields: Photography, Glamour, and Fantasy Landscape.
Praise For…
---
…[Stilgoe's] love of language and the land sees him ploughing through outdated and specialist dictionaries for our benefit, in this illuminating and entertaining book…. Reading this will have you thinking anew about words, as it breaks down both the language and the land that it may originate from or be attached to.—
Irish Times
—
[Y]ou... will find sentences that speak to you so personally as to feel thrilling, almost spookily so.
—
The Wall Street Journal
—
Stilgoe's book champions landscape studies as a discipline founded on curiosity and deep, associative thought, open to byways, discovery, and the occasional absurdity, rewarding for amateurs and seasoned practitioners alike.
—
Publishers Weekly
—
Lovers of dictionaries and nature can rejoice in John Stilgoe's new book.
—
The Paris Review
—