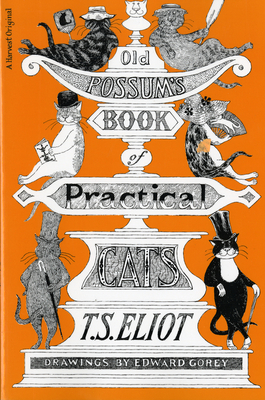 $10.99

Usually Available/Ships in 5-7 Business Days
Description
---
The inspiration for Andrew Lloyd Webber's iconic musical CATS, and its upcoming movie adaptation, directed by Tom Hooper and starring Taylor Swift (Bombalurina), Idris Elba (Macavity the Mystery Cat), Dame Judi Dench (Old Deuteronomy), Ian McKellen (Gus the Theatre Cat), James Corden (Bustopher Jones), Jennifer Hudson (Grizabella), Jason Derulo (Rum Tum Tugger), and Rebel Wilson (Jennyanydots).

Cats! Some are sane, and some are mad.
Some are good, and some are bad . . .

These lovable cat poems were written by T. S. Eliot for his godchildren and continue to delight children and grown-ups. Eliot's beloved cat poems are a curious and artful homage to felines young and old, merry and fierce, small and unmistakably round, and Edward Gorey's graphic interpretations are sure to charm.

 
About the Author
---
THOMAS STEARNS ELIOT was born in St Louis, Missouri, in 1888. He moved to England in 1914 and published his first book of poems in 1917. He received the Nobel Prize in Literature in 1948. Eliot died in 1965.
Edward Gorey (1925-2000) wrote and illustrated such popular books as The Doubtful Guest, The Gashlycrumb Tinies, and The Headless Bust. He was also a very successful set and costume designer, earning a Tony Award for his Broadway production of Edward Gorey's Dracula. Animated sequences of his work have introduced the PBS series Mystery! since 1980.
Old Possum's Book of Practical Cats, Illustrated Edition (Paperback)