Power: A Woman's Guide to Living and Leading Without Apology (Paperback)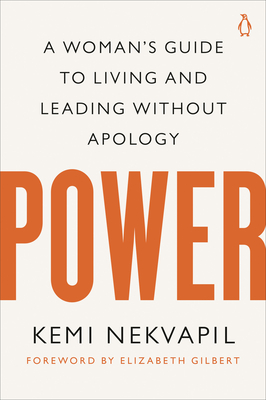 $21.00

Usually Available/Ships in 5-7 Business Days
Description
---
"This book is a miraculous event." –Elizabeth Gilbert, from the foreword

A transformative path for women to reclaim their power in a world all too eager to strip it away

Women know what it's like to feel powerless. We have had power taken from us and used over us, and sometimes we have had to give it away for our own safety. But when power is built internally, it is stronger and more enduring than that bestowed externally. In Power, renowned leadership coach Kemi Nekvapil introduces a new framework for cultivating your power from the inside out.

When you tap into the power that comes from within, you have the capacity to rebuild yourself. You give yourself the opportunity to break free from chronic people-pleasing and start making choices that align with your needs and values. You stop living and leading with apology, and instead use your power as a force for good.

Through the principles of Presence, Ownership, Wisdom, Equality, and Responsibility, Power invites you to stop waiting for power to be handed to you and instead choose it for yourself and on your own terms. Drawing on stories from her own life as a Black woman in a society where power is often used as a tool for fear and obedience, and from the lives of leaders, gamechangers, and everyday women who've learned to step into their power, Nekvapil shows you how to practice, build, and feel your inner force.
About the Author
---
Kemi Nekvapil is a leading credentialed coach for female executives and entrepreneurs, a bestselling author, and a highly sought-after speaker. She has studied leadership and purpose at the Gross National Happiness Centre in Bhutan as well as with Dr. Brené Brown to become a Certified Dare to Lead™ Facilitator, working with teams and organizations to create daring leaders and courageous cultures. Kemi is a facilitator for The Hunger Project Australia and a regular interviewer of industry icons, including Elizabeth Gilbert, Elizabeth Lesser, Martha Beck, and Marie Forleo, and has worked with worldwide organizations including Lululemon, Atlassian, Zoom, Dermalogica, and Omega. She is the host of the Audible Original podcast POWER Talks. With a level of compassion and wisdom gained only through extraordinary life experience and a twenty-eight-year yoga and meditation practice, Kemi is a powerful advocate for connected, values-based living.
Praise For…
---
"In Power, Kemi somehow manages to be blunt but gentle, galvanizing but calm, serious but hilarious, vulnerable but immensely strong. Reading this book will pull you into the flow of power we all share, to find the source that springs uniquely from your own life."—Martha Beck, author of the New York Times bestselling The Way of Integrity
 
"Kemi shows us how we can claim our true power and agency without losing our hearts. Power is a beautiful call to action to live a more purpose-filled life."—Marie Forleo, author of the #1 New York Times bestselling Everything is Figureoutable
 
"A practical guide on how we can reclaim power as individuals and harness more power as a collective. It's essential reading for any woman who wants to create change for herself and change for the world."—Susan David, psychologist at Harvard Medical School and author of the #1 Wall Street Journal bestselling Emotional Agility

"To me, Kemi has always epitomized grace and calmness—quiet strength and assuredness that you can't help but feel more centered around. Power is a reflection of this strength and assuredness, and it's my hope that we can all learn from this incredible guide and live and lead just a little bit more like Kemi!"—Emma Isaacs, founder of Business Chicks
 
"Compelling, probing, and necessary."—Madeleine Dore, creator of Extraordinary Routines
 
"Kemi radiates and teaches a different kind of power—she is a confident and courageous leader, and at the same time, she empowers, uplifts, and liberates others. This is the kind of power that will save our world, and the kind she explores in her book."—Elizabeth Lesser, cofounder of Omega Institute and author of Broken Open and Cassandra Speaks

"This book is a divine gift to the world."—Koya Webb, author of Let Your Fears Make You Fierce

 "When I first met Kemi, I knew I was in the presence of someone more than special. She's a woman full of wisdom, grace, and good power. Power shows how you can become unstoppable by reclaiming your own power and living an authentic life."—Jean Oelwang, founding CEO of Virgin Unite and cofounder of Plus Wonder
 
"I've seen firsthand the effect Kemi's work has had on so many women in my world. There is a reason Kemi is so adored—she challenges women to think about what's possible for their lives and then coaches them through the steps to get there. Powerful stuff (pun intended!)."—Sally Hepworth, author of The Soulmate