Rashomon and Seventeen Other Stories (Penguin Vitae) (Hardcover)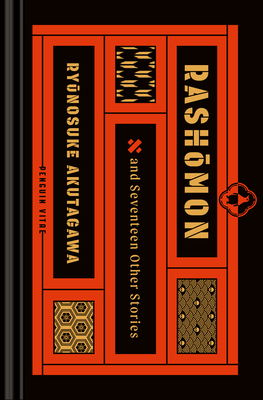 Description
---
A collectible hardcover edition of the best stories by the father of the Japanese short story—including the two that inspired Kurosawa's classic samurai film about the subjectivity of truth—featuring an introduction by Haruki Murakami

A Penguin Vitae Edition

Ryūnosuke Akutagawa is one of Japan's foremost stylists—a modernist master whose short stories are marked by highly original imagery, cynicism, beauty, and wild humor. "Rashōmon" and "In a Bamboo Grove" inspired Akira Kurosawa's magnificent film and depict a past in which morality is turned upside down, while tales such as "The Nose," "O-Gin" and "Loyalty" paint a rich and imaginative picture of a medieval Japan peopled by Shoguns and priests, vagrants and peasants. And in later works such as "Death Register," "The Life of a Stupid Man," and "Spinning Gears," Akutagawa drew from his own life to devastating effect, revealing his intense melancholy and terror of madness in exquisitely moving impressionistic stories.

Penguin Vitae—loosely translated as "Penguin of one's life"—is a deluxe hardcover series from Penguin Classics celebrating a dynamic and diverse landscape of classic fiction and nonfiction from seventy-five years of classics publishing. Penguin Vitae provides readers with beautifully designed classics that have shaped the course of their lives, and welcomes new readers to discover these literary gifts of personal inspiration, intellectual engagement, and creative originality.
About the Author
---
Ryunosuke Akutagawa (1892-1927) was a short story writer, poet, and essayist, as well as one of the first Japanese modernists translated into English. He was born in Tokyo and began writing for student publications at the age of ten. He graduated from Tokyo University in 1916 with a degree in English literature and worked as a teacher before becoming a full-time writer in 1919. His mother experienced a mental health break just months after his birth, and Akutagawa was plagued by a fear of inherited insanity all his life. He ended his own life at the age of 35.

Jay Rubin (translator) has translated several of Haruki Murakami's works into English and is the author of Haruki Murakami and the Music of Words and the editor of The Penguin Book of Japanese Short Stories. He has been a professor of Japanese literature at Harvard University and the University of Washington.

Haruki Murakami (introduction) is one of Japan's most admired and widely read novelists, whose work has been translated into more than fifty languages. His more than twenty books include The Wind-Up Bird Chronicle, Kafka on the Shore, Norwegian Wood, Men Without Women, and Killing Commendatore. Among his many international honors is the Jerusalem Prize, whose previous recipients include the Nobel Prize winners J. M. Coetzee and V. S. Naipaul. Born in Kyoto in 1949, Murakami now lives near Tokyo.