Death Comes for the Archbishop (Penguin Vitae) (Hardcover)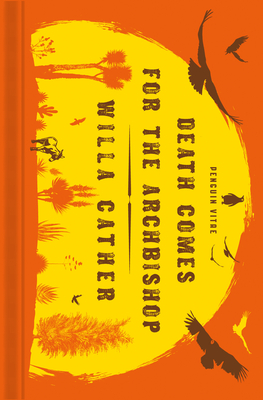 Description
---
For the 150th anniversary of Willa Cather's birth, and for the first time in Penguin Classics, her quietly beautiful novel of one man's life as he encounters the harsh landscape of the New Mexico desert and the people who inhabit it, with an introduction by National Book Award finalist Kali Fajardo-Anstine

A Penguin Vitae Edition

In 1848, following the US's recent acquisition of the American Southwest from Mexico, the young bishop Father Jean Marie Latour receives instruction from the Vatican to oversee a newly created diocese in New Mexico. With his good friend Father Joseph Vaillant in tow, the pair travel through the unforgiving and seemingly-endless desert on mules in attempt to reclaim the region from corrupt priests who have taken mistresses, exhibited greed, and inflicted abuse and genocide on the Mexican and Indigenous residents. But as Father Latour spends more time in New Mexico with the people who have inhabited and influenced it for centuries, he begins to realize that the task he was sent to do is more complicated than anticipated. Rather than leave, though, Father Latour decides to stay and uphold his commitment to the Church and his faith, and gains an eye-opening perspective along the way. Written in 1927 at a time when Cather herself was expanding her own ideas of race, religion, and gender, Death Comes for the Archbishop remains a moving account of one man's physical and spiritual journey of understanding in naturalistic prose as sparse as the desert plains.
About the Author
---
Willa Cather (1873-1947) was born in Virginia and raised on a Nebraska ranch. She is known for her beautifully evocative short stories and novels about the American West. Cather became the managing editor for McClure's Magazine in 1906 and lived for forty years in New York City with her companion Edith Lewis. In 1922 Cather won the Pulitzer Prize for One of Ours.

Kali Fajardo-Anstine is the nationally bestselling author of the novel Woman of Light and the widely acclaimed short story collection Sabrina & Corina, a finalist for the National Book Award and winner of an American Book Award. She is a 2023 Guggenheim Fellow and the 2021 recipient of the Addison M. Metcalf Award from the American Academy of Arts and Letters. Fajardo-Anstine is the 2022–2024 Endowed Chair in Creative Writing at Texas State University. She is from Denver, Colorado.