A Gentleman in Moscow: A Novel (Paperback)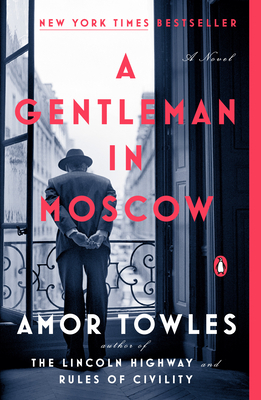 Staff Reviews
---
"A Gentleman In Moscow" by Amor Towles
 William Blake famously wrote, "To see a world in a grain of sand,/And heaven in a wild flower,/Hold infinity in the palm of your hand,/and eternity in an hour." This will become Count Alexander Ilyich Rostov's daily challenge and his lifelong campaign, to see the whole world as defined by the confines of a single building, living out his days under house arrest in the glorious and historic Hotel Metropol for the insidious crime of writing a poem. Amor Towles has created a character of supreme intelligence and wit, a man of integrity and honor. A gentleman in the truest sense of the world, whose misfortune it was to have been visited by his muse in the tumultuous times after the Bolshevik Revolution, and so inspired to pen a poem. This poem may or may not have called into question the rightness of the aforementioned revolution, and may or may not have been "a call to action" (though all true poetry is just that) but the staunch protectors of the common weal, and the proletariat heaven that was Russia in the Roaring 20s, were taking no chances, so the Count was brought up on charges of sedition. Though they would have preferred to stand Count Alexander Ilyich Rostov against the wall, and shoot him for the sheer audacity of writing questionable poetry, their hands were stayed by some of those in power who considered Count Rostov a hero of the Russia of an earlier time. So he would live, with the admonition that if he ever dared to step past the threshold of his beloved hotel, he would be shot. 
So the Count will no longer enjoy his morning perambulations through the heart and soul of Moscow, his visits to the countryside, his peregrinations to Europe and beyond. He will not even be allowed to continue to live in his opulent rooms with grand windows overlooking Theater Square, instead he will be consigned to a small cramped room in the attic, beneath the confining eaves of the roof and containing  a single window "the size of a postage stamp". 
Towles has populated The Metropol Hotel with an outstanding cast of intriguing and fascinating characters, and Count Rostov respects and cherishes them, even those he must contend against, as well he should, for they will be his life-long companions. There are those that think that because the Count has been sequestered behind his beloved hotel that he will be denied communication with the wider world, that his contributions and effect will be constrained by his elegant incarceration and, of course, nothing could be further from the truth.
This is only Amor Towles second book his debut novel "The Rules Of Civility" was also a New York Times bestseller and has posted strong sales at Explore since its release five years ago. "The Rules Of Civility" is a lovely coming of age novel of a young woman in Manhattan in the late 1930s. I have yet to read "Civility" but after reading "A Gentleman In Moscow" it has been added to my must-read list.
Towles has shown himself to be a strong writer with a superlative grasp of detail, pacing and ambience, an exquisite sense of time and space. It should also be noted that he doesn't just create characters that the reader becomes invested in or attached to, he creates characters that readers love and are devoted to. I haven't received such positive, unsolicited reviews of a book by customers since Anthony Doerr's "All The Light We Cannot See", and for many of the same reasons. "A Gentleman In Moscow" is an absolute jewel of a book; captivating, extravagant, multifaceted. 
I would like to suggest, as the winter storms continue to roll in and blanket our beautiful world in gorgeous whiteness that you should avail yourself of a little quiet time, brew a pot of tea, warm up a snifter of brandy, sit by the fire and allow Count Alexander Ilyich Rostov to give you a guided tour of his magnificent hotel and share the warm embrace of his dearest friends. Mark Billingsley
— Mark Billingsley
September 2016 Indie Next List
---
"Through Count Alexander Ilyich Rostov's ordinary encounters and activities within the bounds of the four walls of post-revolutionary Moscow's Metropol Hotel, where he is under house arrest, Towles deftly guides readers across a century of Russian history, from the Bolshevik uprising to the dawn of the nuclear age under Krushchev. Grandiloquent language and drama reminiscent of Tolstoy gradually give way to action and tradecraft suggestive of le Carre in this lovely and entertaining tale of one man's determination to maintain his dignity and passion for life, even after being stripped of his title, belongings, and freedom. Reading A Gentleman in Moscow is pure pleasure!"
— Becky Dayton, The Vermont Book Shop, Middlebury, VT
Description
---
The mega-bestseller with more than 2 million readers, soon to be a Showtime/Paramount series starring Ewan McGregor as Count Alexander Rostov

From the #1 New York Times-bestselling author of The Lincoln Highway and Rules of Civility, a beautifully transporting novel about a man who is ordered to spend the rest of his life inside a luxury hotel

In 1922, Count Alexander Rostov is deemed an unrepentant aristocrat by a Bolshevik tribunal, and is sentenced to house arrest in the Metropol, a grand hotel across the street from the Kremlin. Rostov, an indomitable man of erudition and wit, has never worked a day in his life, and must now live in an attic room while some of the most tumultuous decades in Russian history are unfolding outside the hotel's doors. Unexpectedly, his reduced circumstances provide him entry into a much larger world of emotional discovery.

Brimming with humor, a glittering cast of characters, and one beautifully rendered scene after another, this singular novel casts a spell as it relates the count's endeavor to gain a deeper understanding of what it means to be a man of purpose.
About the Author
---
Amor Towles is the author of the New York Times bestsellers Rules of Civility and A Gentleman in Moscow. The two novels have collectively sold more than four million copies and have been translated into more than thirty languages. Towles lives in Manhattan with his wife and two children.
Praise For…
---
"The novel buzzes with the energy of numerous adventures, love affairs, [and] twists of fate."
—The Wall Street Journal

"If you're looking for a summer novel, this is it. Beautifully written, a story of a Russian aristocrat trapped in Moscow during the tumult of the 1930s. It brims with intelligence, erudition, and insight, an old-fashioned novel in the best sense of the term."
—Fareed Zakaria, "Global Public Square," CNN

"Fun, clever, and surprisingly upbeat . . . A Gentleman in Moscow is an amazing story because it manages to be a little bit of everything. There's fantastical romance, politics, espionage, parenthood and poetry. The book is technically historical fiction, but you would be just as accurate calling it a thriller or a love story."
—Bill Gates

"The book is like a salve. I think the world feels disordered right now. The count's refinement and genteel nature are exactly what we're longing for."
—Ann Patchett

"How delightful that in an era as crude as ours this finely composed novel stretches out with old-World elegance."
—The Washington Post

"[A] wonderful book at any time . . . [I]t brought home to me how people find ways to be happy, make connections, and make a difference to one another's lives, even in the strangest, saddest and most restrictive circumstances."
—Tana French, author of The Searcher

"Marvelous."
—Chicago Tribune

"The novel buzzes with the energy of numerous adventures, love affairs, twists of fate and silly antics."
—The Wall Street Journal
 
"A winning, stylish novel."
—NPR.org

"Enjoyable, elegant."
—Seattle Times

"The perfect book to curl up with while the world goes by outside your window."
—Refinery29

"Who will save Rostov from the intrusions of state if not the seamstresses, chefs, bartenders and doormen? In the end, Towles's greatest narrative effect is not the moments of wonder and synchronicity but the generous transformation of these peripheral workers, over the course of decades, into confidants, equals and, finally, friends. With them around, a life sentence in these gilded halls might make Rostov the luckiest man in Russia."
—The New York Times Book Review

"This is an old fashioned sort of romance, filled with delicious detail. Save this precious book for times you really, really want to escape reality." 
—Louise Erdrich

"Towles gets good mileage from the considerable charm of his protagonist and the peculiar world he inhabits."
—The New Yorker

"Irresistible . . . In his second elegant period piece, Towles continues to explore the question of how a person can lead an authentic life in a time when mere survival is a feat in itself . . . Towles's tale, as lavishly filigreed as a Fabergé egg, gleams with nostalgia for the golden age of Tolstoy and Turgenev."
—O, The Oprah Magazine

"'The Grand Budapest Hotel' and 'Eloise' meets all the Bond villains."
—TheSkimm

"And the intrigue! . . . [A Gentleman in Moscow] is laced with sparkling threads (they will tie up) and tokens (they will matter): special keys, secret compartments, gold coins, vials of coveted liquid, old-fashioned pistols, duels and scars, hidden assignations (discreet and smoky), stolen passports, a ruby necklace, mysterious letters on elegant hotel stationery . . . a luscious stage set, backdrop for a downright Casablanca-like drama."
—The San Francisco Chronicle

"The same gorgeous, layered richness that marked Towles' debut, Rules of Civility, shapes [A Gentleman in Moscow]."
—Entertainment Weekly

Praise for Rules of Civility

"An irresistible and astonishingly assured debut."
—O, the Oprah Magazine

"With this snappy period piece, Towles resurrects the cinematic black-and-white Manhattan of the golden age…[his] characters are youthful Americans in tricky times, trying to create authentic lives." 
—The New York Times Book Review

"Sharp [and] sure-handed." 
—Wall Street Journal

"Put on some Billie Holiday, pour a dry martini and immerse yourself in the eventful life of Katey Kontent."
—People

"[A] wonderful debut novel." 
—The Chicago Tribune

"Glittering…filled with snappy dialogue, sharp observations and an array of terrifically drawn characters…Towles writes with grace and verve about the mores and manners of a society on the cusp of radical change." 
—NPR.org

"A book that enchants on first reading and only improves on the second." 
—The Philadelphia Inquirer