Advanced Spanish Step-By-Step: Master Accelerated Grammar to Take Your Spanish to the Next Level (Easy Step-By-Step) (Paperback)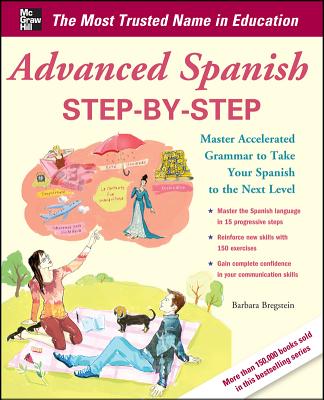 $19.00

Usually Available/Ships in 5-7 Business Days
Description
---
A proven grammar-based approach that gives you a real mastery of the Spanish language
Use Advanced Spanish Step by Step's progressive, grammar-based approach to conquer intermediate and advanced Spanish-language topics. This step-by-step approach gives you real confidence and the tools you need to achieve a high Spanish proficiency.
You'll get a quick review of the key grammar basics, then move on to more advanced topics that you need for true mastery of the language. With complete coverage of verb tenses beyond the present and past, irregular verbs, sentence structure, parts of speech, and more, this book gives a thorough overview of advanced grammar topics. It also introduces you to hundreds of new vocabulary words that are reinforced with readings that put the new terms in everyday context.
About the Author
---
Barbara Bregstein is a translator and Spanish instructor with more than thirty years' experience teaching at colleges in the New York City area. She is the author of the bestselling Easy Spanish Step-by-Step (McGraw-Hill).