The Kind Worth Saving: A Novel (Hardcover)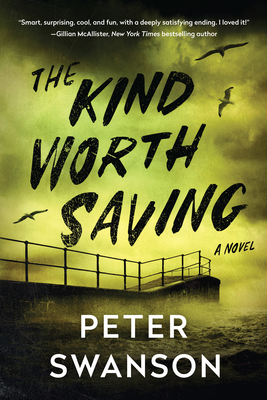 Description
---
"The inventive Mr. Swanson never lets the willing reader down. With The Kind Worth Saving, he surpasses his own high standard." — Tom Nolan, Wall Street Journal
In this spectacularly devious novel by New York Times bestselling author Peter Swanson, a private eye starts to follow a possibly adulterous husband, but little does he know that the twisted trail will lead back to the woman who hired him.
There was always something slightly dangerous about Joan. So, when she turns up at private inves­tigator Henry Kimball's office asking him to investigate her husband, he can't help feeling ill at ease. Just the sight of her stirs up a chilling memory: He knew Joan in his previous life as a high school English teacher, when he was at the center of a tragedy.
Now Joan needs his help proving that her husband is cheating. But what should be a simple case of infidelity becomes much more complicated when Kimball finds two bodies in an uninhabited suburban home with a FOR SALE sign out front. Suddenly it feels like the past is repeating itself, and Henry must go back to one of the worst days of his life to uncover the truth.
Is it possible that Joan knows something about that day, something she's hidden all these years? Could there still be a killer out there, someone who believes they have gotten away with murder? Henry is determined to find out, enlisting help from his old nemesis Lily Kintner—but as he steps closer to the truth, a murderer is getting closer to him, and in this hair-raising game of cat and mouse only one of them will survive.
About the Author
---
Peter Swanson is the New York Times bestselling author of The Kind Worth Killing, winner of the New England Society Book Award and finalist for the CWA Ian Fleming Steel Dagger; Her Every Fear, an NPR book of the year; and Eight Perfect Murders, a New York Times bestseller, among others. His books have been translated into 30 languages, and his stories, poetry, and features have appeared in Asimov's Science Fiction, The Atlantic Monthly, Measure, The Guardian, The Strand Magazine, and Yankee Magazine. He lives on the North Shore of Massachusetts, where he is at work on his next novel.
Praise For…
---
"Smart, surprising, cool, and fun, with a deeply satisfying ending. I loved it!" — Gillian McAllister, New York Times bestselling author, on The Kind Worth Saving
"A complex tale of multiple killings over many years involving at least one, and possibly more, murderous psychopaths. The story is told in alternating timelines. . . How those two stories converge, and the shocking sleight-of-hand twist that is, trust me, impossible to predict, are just two of the many balls that Swanson juggles in this entertaining story." — Sarah Lyall, New York Times Book Review, on The Kind Worth Saving
"This isn't exactly a sequel to Swanson's The Kind Worth Killing, though several of the characters, including the gloriously warped Lily Kintner, reappear here, but it does reprise the same creepy theme: sociopathic spiders and the not-quite-innocent flies they attempt to entrap in their labyrinthine webs (when they aren't trapping one another). Only this time Swanson ups the ante dramatically. . . It isn't so much plot twists that keep the reader reeling here (though there are plenty of those) as it is the growing realization of the horrors lurking within the minds of seemingly ordinary people." — Booklist (starred review) on The Kind Worth Saving
"The Kind Worth Saving is another superb slice of Neo-noir, a genre in which Peter Swanson is pretty much peerless." — M. W. Craven, Sunday Times bestselling author
"A spine-tingling quest to expose evil before evil wins. Psychological thriller fanatics will scramble to complete this satisfyingly twisty novel." — Library Journal on The Kind Worth Saving
"The inventive Mr. Swanson never lets the willing reader down. With The Kind Worth Saving, he surpasses his own high standard." — Tom Nolan, Wall Street Journal
"Complex, twist-filled." — Bruce Desilva, Associated Press
"Readers will be hard-pressed not to devour this in one sitting." — Publishers Weekly
"The Kind Worth Saving is a pitch perfect mystery with all the humanity and depth we've come to expect from this master of suspense." — CrimeReads
"The mysterious letters that arrive for the unlucky folks in Peter Swanson's terrific Nine Lives are all identical… The plot is an ingenious puzzle… Forget trying to solve the mystery yourself. But be aware that if you look closely, you may spot the murderer… hiding in plain sight." — New York Times Book Review
"[A] smartly entertaining reimagining of Agatha Christie's classic And Then There Were None… Swanson cunningly plays with readers' heads as we hope so-and-so gets it next… In addition to the suspense — who's doing this, and why? — there's lots of literary wit." — Washington Post on Nine Lives
"Swanson honors genre traditions by arousing expectations only to subvert them—and then subvert them again. Some of the surprises are so unexpected, readers may be doing mental backflips to keep up. The author of Nine Lives has surpassed his own high standards." — Wall Street Journal
"Swanson again takes the idea of fiction as homage to deliriously vertiginous new heights… While the tension mounts deliciously as we wonder if there will be any survivors, the real fascination here is the explanation itself—and what it reveals about the cancerous effects of guilt and obsession." —  Booklist (starred review) on Nine Lives
"Swanson (Every Vow You Break) neatly riffs on Agatha Christie's classic And Then There Were None in this taut thriller… [A] well-crafted page-turner." — Publishers Weekly on Nine Lives
"I loved Nine Lives. Swanson's sharp and insightful characterization brought to life a fascinating premise. The whole resolution is beautifully worked out." — Ann Cleeves, author of The Heron's Cry
"With economical strokes of his pen, Peter Swanson presents us with a clever homage to the Golden Age of Mystery and keeps us guessing right to the end."  — Peter May, author of The Blackhouse on Nine Lives
"Hitchcockian chills and thrills abound in Swanson's latest mystery, a twisty tale of survival and deception. "  — O, the Oprah Magazine on Every Vow You Break
"Swanson specializes in writing mesmerizing thrillers that subvert readers' expectations. The author works his particular magic once again with Every Vow You Break… Swanson's shape-shifting saga is reminiscent, by turns, of such foreboding films as Vertigo [and] Fatal Attraction." — Wall Street Journal
"Just when we think we have an idea of what Abigail is up against, Swanson pulls the rug away from under us. Strange events give way to sinister revelations... The last act cranks up tension to the breaking point. Sit back, suspend all disbelief, and watch those pages fly by." — Minneapolis Star Tribune on Every Vow You Break
"With mounting tension and fraying nerves, it careens to the final stunning conclusion. A true tour de force." —  Lisa Gardner on Eight Perfect Murders
"A devious whodunit" — New York Times Book Review on Eight Perfect Murders
"Eight Perfect Murders creates expectations it then subverts, presents suspects only to eliminate them, and in general has its own way with the tropes of the mystery thriller—including that genre mainstay, the unreliable narrator." — Wall Street Journal
"In Peter Swanson's expert hands, one woman's discerning observation at a quiet suburban dinner party unfolds into a gripping, twisty, psychologically complex thriller. I could not put it down." — Alafair Burke on Before She Knew Him